Vacation Evacuations
Saturday, we ended a family vacation that lasted 17 nights, 5 states, a round trip plane ride, and a border crossing—greetings Victoria, Canada! It was the longest stretch of vacation I had ever taken.
This post, of course, will not be aimed at the boardwalk funnel cake in Delaware, or the Humpback Whale sighting in Alaska. While you may find some of that interesting, this blog is not a space for family slide shows. You've likely eaten funnel cake and seen stunning photos of Humpback Whales with their signature back flop before.
This blog puts experience through the filter of sobriety and finds a deep appreciation in the ordinary. If this is your first visit, welcome. I hope you stick around. If you subscribe, you'll receive a new post in your email each Monday morning, with no other links or promotions attached.
I'm not good at vacationing.
So says my wife.
She makes a good case. In general, I don't relax by putting my feet up. I relax by diving my feet in. I believe in active meditation, and walking prayers—the prayers you say to yourself in the car or walking down the street.
It's not normal vacationing, in her opinion, to wake up before the sun rises each morning to write, for example. But creativity is the keystone of my recovery. It fills the void left behind in the wake of drug and alcohol addiction. My truth is that drugs and alcohol worked in my life. They satisfied a deeper yearning for acceptance—they were what made my feelings acceptable.
Take them away, and I've got to find an alternative. If there isn't an alternative to make me feel good, I will drink and use again. In fact, as I am an addict, if I don't find an alternative to make me feel better and better and better, I will be defenseless against a relapse.
So I write and read to fill the void: that void of more. I lose myself in words rather than substances.
Writing each morning on vacation is like taking medication.
Unlike medication, unfortunately for my wife, writing in the morning takes me two hours. Anything short of two hours and I haven't really scratched that itch—I'll experience some degree of restlessness until I find the time to finish what I couldn't in thirty minutes or an hour. And while I sympathize with my wife—who wants a husband so anal that he refuses to sleep in on vacation?—it doesn't change the neural pathways and dopamine receptors in my brain that determine my mood and, far too often, my actions.
Vacations aren't an easy time to self-prescribe those creative reprieves that I'm so dependent on.
Moreover, who wants to? Who wants to worry about mental health when you're watching lumberjacks compete using axes in Alaska's first city? Who wants to make time for meetings when you're biking to Lewes Harbor through Delaware's marshes and soybean fields? Who wants to be chained to a screen when the misty fjords of Alaska are dappled in morning light?
The great truth of recovery is learning that what I want is not as important as what I need. It makes good logical sense. If I don't take care of the things I need to do first, I can't do any of the things I want to do next. But often, it's hard to see the forest from the trees. Taken moment to moment, it doesn't make sense to go sit in a room of strangers sipping black coffee when I could be splashing my children with seawater. Recovery rarely makes sense in the illogical heat of the moment. That's why I need the long view of other people to guide the short-term decisions I make.
My needs—the requirements to live clean and sober—must come first.
---
One way to describe this long road of recovery I am on—and the miracle of the mundane itself—is as an alchemy that turns what I need into what I want."
---
I want recovery. I want solution, absolution, and resolution. I want the simple joys. I want those sober sunrises. That is my life's aim, and, I believe, my ultimate salvation.
It doesn't come easy. Honesty is hard, so is self-reflection and the courage to do the right thing. I need those things in order to stay sober. And the more I learn that those needs are what I want—and all I ever wanted—from life, the better I feel. So I keep doing what I do, every day, even on vacation.
And I fall short, of course.
Let's drop into night 16.
I was putting my son to sleep. No simple matter. He loves the nightlife. He loves to boogie. Goodnight Moon strikes him with disco fever.
"Close your eyes, dude," I said, lying next to him.
I couldn't keep my eyes open. I wanted to get him to bed before I pass out and my unconscious body becomes some prop in his imaginary play.
"I can't," he said. His eyes were glossy and red.
"Dude, yes you can. You are exhausted."
"No, I'm not."
"Yes, you are."
"No, I'm not."
"Why don't we say a prayer?"
"Why?"
Oh, here we go, I thought to myself. Once the whys start, they don't stop.
"Because God can help you get to sleep," I said.
"Why?"
"Because God can calm your mind."
"Why?"
"Just trust me."
I said a prayer. Then I enjoyed a few seconds of silence before:
"Daddy?"
"Why don't we pray on vacation?"
Good question. That little stinker. He was right. Our prayer routine had been completely forgotten. Usually, we pray together at least twice a day, at breakfast and dinner.
For some reason, on vacation, that routine fell off. 
We hadn't prayed once in two weeks.
I won't recite the watered down response I gave him that night, but to answer his question of why we don't pray on vacation, I will offer this: we don't ask for help in good times. Often, we wait too long. And sometimes, it's too late.
Why is it so hard to stay in the light?
Vacations are a great reminder that comfort is not the same as spirituality. In fact, I would argue that if there is not an edge of discomfort somewhere in what you are doing, then it is not spiritual at all.
The next morning—the morning after I said my first prayer of the trip—was our last morning of the vacation.
I was standing in front of the book case in our rental house. The owners have a great taste in books, in my opinion. Throughout the week, I was in and out of some of my favorites, and discovering classics, new and old, that I haven't read yet.
Something amazing happened that morning.
And to explain why it is amazing, first let's all admit that sometimes remarkable things happen in the most unremarkable ways.
Like, under normal circumstances, I would never pick out a Walker Percy book from a collection. I'm not a Percy fan. I didn't enjoy The Moviegoer. And when a relative was all, "You've got to give him a chance" and gave me Percy's book of essays, I didn't enjoy those either. The only reason I was interested in Walker Percy that morning was because I am listening to Confederacy of Dunces on Audible, a book I love that Percy published after John Kennedy Toole, the author, killed himself.
Are you still with me? All that matters is that under any other circumstances, I would not pick up a book written by Walker Percy.
The book was Love in the Ruins.
And of the 416 pages in the book, I opened to one in particular. And of the several hundred words on the page, I read this: "The mystery of evil is the mystery of limited goodness."
Now isn't that interesting? Limited goodness. The way prayer runs dry on vacation. The way complacency corrodes the spirit. The root of the fruitful question: if anyone can experience God, why aren't we all saints?
Maybe you believe in outrageously good fortune. Maybe you believe that lottery winners are blessed.
What are the odds that on the final morning of vacation, standing in front of an estimated 100 million words of print, I discover the 10 that I needed desperately to read?
If you're a person of faith, the odds are pretty good.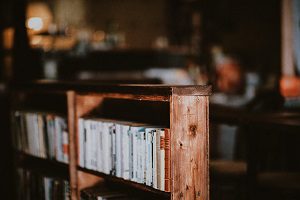 ---
A quick writer's note. If you like the miracle of the mundane, you may want to follow me on

Medium
. I am chronicling my journey to get a book published.
And, if you enjoy this website, let someone else know about it. A couple clicks can go a long way. Independent writers live on shares like street performers live on donations. Unlike street performers, you can support me for free.