34
Today I turn 34.
Halve that and I'm still using a fake ID to buy cigarettes. Double it and we'll have finally paid off the mortgage to our house.
I was thinking of titling this post with roman numerals for 34, but XXXIV conjured an image of a porn star on hospice care.
When I turned 33, I had a poem come to me for the occasion. I was motivated to make it the year of getting things done. And I did.
I got a lot done, all right. I got so much done, I forgot to make a plan for what 34 should bring.
A poem came to me in haiku. It just didn't provide any direction:
Now I am thirty
four, wishing I could erase
the last two lines here.
I kid.
I am one of those lame people who enjoys getting old. Ever since recovery began my life's work of self-reflection and spiritual progress, I find more enjoyment as I grow.
If my four-year-old had one wish it would to be a grown up.
Just the other day, after a fight over toys with his sister, he told us that he wants to have the house all to himself.
"Oh yeah?" my wife said. "What would you do to eat?"
"I'd go to the store."
"And what would you buy?"
"Frozen pizza."
"How would you even get there?"
"My truck, of course." He is referring here to his toy truck that his grandparents got him.
My wife and I were cracking up, imagining him rolling out of the Safeway with frozen pizzas in the plastic bed of his mock Chevy, pushing his electric motor to its five-mile-an-hour top speed.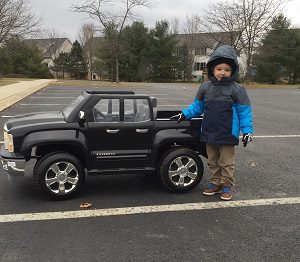 Young people remind me how cool it is grow up. It helps me stay grateful that I still have some growing up to do.
I made 33, the Jesus year, the year of doing.
And I'm exhausted. Yes, I got a lot done, but I'm ready to move on from 33. I want to make 34 the year of being.
It feels like in all I got done, I drew one singular meaningful conclusion: I am a writer. It took about a half a million words, but I got there. Proving I am a writer requires a lot of effort. And then that effort requires feedback and recognition, which is even more exhausting than the work I put in to get recognized in the first place.
In fact, when I am trapped in doing all the things I think I should and expecting recognition for it, I care more about the recognition than the work itself. Take the recognition away and the work becomes a joyless chore.
Being a writer is different than proving I am one. In recovery terms, it is doing my best and leaving the results up to God. It is focusing on my side of the street, not letting the possibility of what other people might be thinking affect my thought and action. It is a much less anxious state of existence. And, in that Zen, less-is-more fashion, focusing on being rather than doing will allow me to do a lot more.
Like, if I had a nickel for every time I doubted this blog, or writing publicly about mental health, or worrying about who was reading my innermost thoughts, I'd have enough money to finally take the bait and do some Facebook advertising.
Yet every time I come across a new stranger or old friend who acknowledges what I'm doing, I get filled with joy and satisfaction.
The equation does not come to balance.
If I enjoy people—new and old, strangers and friends—reading what I write, why worry at all about who is visiting? Why not just write my absolute best and leave the rest up to fate? Why not submit all these stories I'm stockpiling and detach from the result?
Being beats doing because being is doing without having to do anything at all.
I've felt proof in the power of being in other areas in my life.
Sometimes the best thing I can do as a teacher is not teach. What I mean is teaching isn't about providing the best information, leave that to Google. Teaching is about asking a good question and not leaving the room—bolting it shut if you have to—until the students find an answer. It involves more presence than action. It doesn't require me to do much but sit there with that teacher look, like I smell something and I'm waiting to see who else can smell it. I'm learning that good teaching requires more restraint than action.
If you're in recovery, it's likely you know what I'm talking about. There's no sense in me trying to quit a substance by using will power, grit, and determination. My addict pulls those strings. To stay clean and sober, I need to disable the puppet master. I flick it to the Off position by becoming better aware of what controls me.
Being is how we surrender and win. In becoming and embracing the thing we struggle against, we are able to cease struggling against it. If alcohol abuse is an allergic reaction, we eliminate the allergen to avoid the reaction. I've found more strength in identifying as an alcoholic and addict, than I have in any course of action I've ever taken. In the flow chart of my 33 years of accomplishment, embracing my alcoholism is at the start.
For you, it may be mastering yoga, cooking, crocheting—it doesn't matter. What matters is embracing your being.
I am a writer. Writers don't wait for inspiration. They are the story. They put the words down whether they feel like it or not, because if they don't, they are not being a writer.
When I turn 35, God willing, this little experiment in existence will be over. My hope is that being a writer—which can be loosely translated as just fucking writing already—will prove more productive than doing all the other crap that I think a writer should be doing and expecting the results that writers get.
There is no try, there is only do.
There is no should be, there only is.