The Tragedy I'm Happy Happened
I spent the first ten days of August without the use of my cellphone.
It changed more of my routine than I'd like to admit.
I reverted back to an ancient brand of appointment-keeping, using exact time and place.
Without a phone, it's not enough to say, "Meet me at Home Depot at three." You would have to add, "In the paint aisle," and then anticipate their question, "Which paint aisle?" and say ahead of time, "The paint aisle with big wall of color samples."
Then you would stand there, under the paint samples. And by 3:01 you'd wonder if you should have been more specific, like "Meet me under the white section?" But if you did that, you'd only then worry if you should have said, "Egg Shell White" to be more exact.
By 3:05, you'd be inclined to pace up and down the paint aisles in case he misheard you, but then by 3:10 you'd be sick with worry that while you were pacing the other paint isles, he stood under the paint samples for a moment and left.
Without a cell phone, there's no message waiting for you.
So, if you say, "meet me under the paint samples at three," you'd better wait there, and do your best to remain hopeful. So you let go of the worry and instead study the three dozen names they've given to the color blue.
Then there's the information retrieval.
I think of at least a dozen Trivial Pursuit questions a day that I can't answer. It's frustrating "Which actor was it whose first job in Hollywood was to wear a El Pollo Loco chicken suit?" Or "What's the name of that Kids in the Hall guy who wound up on the show with Andy Dick about the news?" Even, "What the hell were we debating yesterday?" can be answered by scrolling yesterday's search history.
When such questions arise without a phone, you have to sit there and think about the question. Our minds have unlimited long-term storage, but our retrieval of that information is sloppy. It's like my work bench. I have all the tools, but some days it takes me thirty minutes to find the needle-nose pliers. The science of cognition says that the only way to get better at finding the information we need is through practice.
It may take days to find that information to begin with, but it won't get any faster if you use google to get it for you. I find myself in the most inappropriate of circumstances, yelling, "Brad Pitt" or "Dave Foley" and everyone looks at me like I have Turrets Syndrome. But at least I retrieved it on my own eventually.
The greatest change in those 10 days without a phone was closer company from an old friend: the fear of missing out.
I was struck with curiosity throughout the day as to what was going on in the world. What was happening to those whom I follow on social media?
I shuddered to think of the phone calls I'd missed, the voice and text messages. How could people continue to live their lives without hearing from me first? The world must be at some sort of impasse the way mine is—the pain of my disconnection rippling through 4g waves and WiFi stratospheres.
Then again, I tend toward the grandiose.
When a replacement phone arrived on August 10 and I rejoined the knowing world, I imagined our server at home flinging hundreds upon hundreds of messages to my phone, back logs of voicemail, long one-sided text conversations.
The phone buzzed and beeped, two little red numbers appeared in the corner of the phone and message icons: 6 and 4. I had as many messages waiting for me as I had days unable to receive them.
Huh, I thought.
Not only was everything going to be all right, but everything had been all right the entire time. There was nothing to worry about. I caught up with people in a mere hour.
I started some mental math.
Then I remembered I had my phone, so I opened the calculator app. Ten messages between voice and text, which took roughly two minutes to read and listen to. Compare that to the—I estimated—two minutes per day I spent worrying about who was trying to get in touch with me. My time worrying to reality ratio was a startling 10:1.
Could this be right? I thought. Could my worry honestly be so lopsided?
That morning I reinstalled the apps. Audible and Spotify. Google Drive so I can catch those random thoughts and observations throughout the day. And of course, I downloaded my social media.
My worry-to-reality ratio made sense when I installed Facebook Messenger.
Screen One: Please turn on notifications.
A dancing arrow pointed to "OK" while the other button said "Not Now," which is the same as saying, "Maybe Later."
Screen Two: Will you give Facebook your phone number?
Me: Hell No.
Screen Three: Are you sure about that?
Me: Hell Yes.
Screen Four: Can Facebook hijack your contact list anyway?
Me: Hell No!
Screen Five: Consider adding your contacts so you have people to talk to.
Me: HELLLL NAH!
Screen Six: You're on Messenger. Please turn on your notifications.
I click the small colorless, "Not Now" box again.
Screen Seven: Are you sure you want to continue without notifications? You might miss messages.
It takes seven clicks to tell Facebook to stay the hell away from my contact list and to leave me alone when my friends in Australia send me a message over their lunch that arrives in the middle of my night.
---
It's no wonder I worry so much about what I'm missing out on when the things that tell me what I'm missing worry so much about me.
---
There is a fine line between using my phone and having my phone use me. And while I don't always do a good job of respecting that boundary, I try my best to be aware of it.
So, here's what I learned from leaving my phone out in the rain:
You're not missing out on anything.
The Doomsday Whistle will sound if you are.
You can wait thirty minutes without texting the person you are waiting for.
In fact, those thirty minutes of idle time can teach you something new like the nuances of color scheming.
It's helpful to put your brain through the retrieval process.
Even if it takes three days to retrieve, that's three days of brain exercise.
It was good to get my phone back. But it was great to go without it for ten days.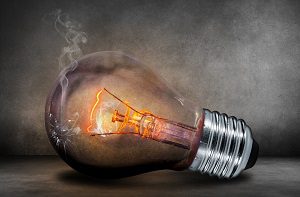 I get better at describing the miracle of the mundane with every post I write the way you become keener about the color blue after standing in front of an array of interior paint options. It, the miracle, usually comes down to taking away all the things that get in the way of mundane life, returning to a simplicity of existence with a grateful heart.
With all we have complicating our experience, it's no wonder that it takes some divine intervention—a freak deluge one summer afternoon—just to see things as they are.
---
You can follow me on Medium, or just click over there for my latest piece on the writer's life.