The Return of the Fiend
I can explain, I promise. Just hear me out.
First, before you judge, know and understand that it was a beautiful day. Mid 80s. Sunny with occasional relief from a passing cloud cover. The water was calm. The only thing less than perfect was the fishing.
No one caught a flounder. Crabs kept eating our bait. That didn't matter to me. The saying, "A bad day fishing beats a good day at work," explains how I felt. I was out there with six other men. No kids. We fished with actual rods. Rods without Spiderman logos on them. I focused on nothing but my cast and reel in the serenity of the Chesapeake Bay.
I felt like nothing could go wrong.
Those were not the circumstances I would imagine myself in when I relapse on tobacco for the first time in half a year.
The relapse before this one made much better sense. It was after a tough morning at home, and I was in that "Oh yeah?" kind of spirit when any decision I make is inextricably bound with stupidity. Why I reached for that bag of Beech-Nut chewing tobacco on a calm day under blue skies doing something I love is beyond me. But I did. And I couldn't finish the fishing trip without tossing in a second pinch from that carcinogenic pouch.
Later on land, I tried to remember when I gave myself permission to chew tobacco again. Bad decisions such as this one are usually preceded by a gradual slipping of will power—a series of excuses lubricate my relapse. "You can just quit again," or "It will help you get more done during the day," or the prideful, "You deserve it." These little thoughts are always pestering me. They poke and prod my thinking. Sometimes, they hit me in just the right places. And when they do, it doesn't matter if I'm on a boat ride, wrapping up a long day's work, or stopping to get gas on a road trip. I cave.
The fiend told me that this time around was different. Raw leaf tobacco is not the same as that fine cut stuff. My last trip down the nicotine vortex involved Snus, a Swedish brand of fix that doesn't require spitting. Chew tobacco is on the opposite end of the juice spectrum. It's the kind of tobacco that baseball players had to quit using when the movies stopped glorifying cigarettes, the kind mimicked in bags of Big League Chew bubblegum, the kind that caused the fictional characters in the movie The Sandlot to throw up at a carnival. Somehow, this made the decision a good one.
---
With all that I do to stay clean and sober, I am still susceptible to the bizarre and private logic of relapse.
---
This fact—my continued vulnerability to bad habits no matter the evidence to dissuade them—reminds me of two important things. First, I cannot be so sober that I never drink again. I stay sober daily. My addiction has no cures, only reprieves. And second, I need to be grateful that I am out of that active cycle of alcoholism and drug addiction. If you think tobacco makes me crazy, try adding a shot of tequila, a bump of cocaine, and a bong toke.
I know that telling myself it is okay to use leaf tobacco because it isn't cut is insane. But in the moment, it seemed a clear and rational suggestion. I justified my indulgence of one with my restraint of the other. I put one hand in the tobacco pouch, while the other hand patted my back because the pouch is not a tin. It's this maddening reluctance to see the truth of my actions that has got me in a lot of trouble. It's nearly killed me. It should have killed me. And there, under the summer sun and bay breeze, it began to slowly kill me again.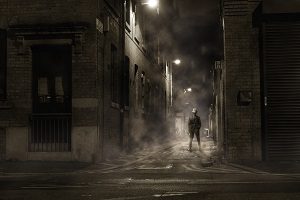 It's one thing to borrow a pinch on a fishing trip. It's another to buy my own pouch when I get home.
That's where the fiend becomes even more baffling. You give him a taste, a morsel, and he has the energy to run a marathon of circles in your thought.
The fiend tells me to have the bag ready for recreational use only. So I buy a pouch when I purchase the rest of the camping supplies for that coming weekend. So what if it's Tuesday and we don't leave for four days, can a man be prepared? Then, naturally, I grab a pinch for the car ride home. I leave the pouch in the car, expanding my permission to chew from fishing and camping trips, to drives in the car. I ask my wife that night if I can pick her up anything from the store.
Now the fiend has me on the ropes.
"You've been getting tired in the afternoons. One pinch a day will help that."
"The leaf tobacco is obnoxious, the stuff of spittoons and yellow teeth. It's so obnoxious that you can't keep the habit going for too long or use it too often."
"You've never had a run with chew tobacco. This would complete your knowledge of the tobacco plant. You're always calling yourself a student of life."
Then the knockout punch: "This gives you something to blog about."
---
It the unique power of an addict that can turn a blog whose title claims sobriety is a miracle into an excuse to start using a drug again.
---
My permission to chew floated like a fog from fishing to camping to driving to anytime I can get away with it. I learned that this chew tobacco has the strongest pull of them all. Not cut like dip tobacco, it is raw. Not portioned out like Snus, I can self-prescribe my dosage. I bought another pouch and the fog seeps into everything. My days became stained brown.
And then this weekend came.
I was biking with my son. Because biking is a recreational activity, I had a wet wad in the side of my mouth. My son stopped his bike.
"Why'd you stop?" I asked him.
He leaned to the side and spat.
"So I can spit. I want to be just like daddy."
And then, unprompted, and as if the God of vengeance gave him the script, he added, "I want you to always have that in your mouth. So we can always spit together. Okay, daddy?"
I didn't answer him.
I did finish the chew. But I told myself that this was the sign to quit, to really quit.
Days free of tobacco? Put me down for one.