Rx
Friday marked ten years clean and sober.
I celebrated with my sponsor, my wife, and a core group of people that have meant everything to my sobriety. It was a great night.
I've struggled to grasp the notion of a sober decade.
Decades are things that make pop musical canons—the 80s—or fill a chapter of a history textbook—the 60s. Decades surpass social movements, wars, and eras of legislative policy. Decades make history by charting slow and continual transformations.
They certainly aren't natural blocks of time for alcoholics to live without drinking or drug addicts without using. I am an anomaly. The energy of the celebration night was surreal as a result. I wasn't anxious, wondering if I was feeling the way I should be feeling, or fearful in the knowledge that I am one bad decision away from losing it all, or worried that I can wake up in the morning and—like some Disney spell—return to the misery I came from a decade earlier. I think the real unbelievability of celebrating that length of time stemmed from how utterly believable it feels to be clean and sober today.
I just prefer my life this way.
I don't miss the insanity. I don't pine for pints. I am—the ups, downs, and inbetweens included—happy. As rare as it sounds to be 3,650 days sober, it doesn't feel strange at all. I was trying to piece together my thoughts Friday with my sponsor.
"Ten years is a long time," I told him.
"That it is," he said. "It's a lot of weekends sober. It's a lot of showing up for work on Mondays, too."
And it's true. Showing up for people in my life has been the main prescription for my recovery. As it's been ten years, it is really my Rx.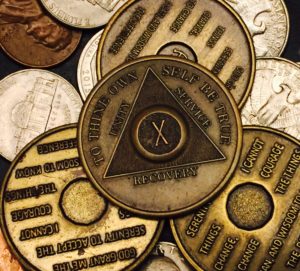 I am very emotional when anniversaries come.
Friday night was no exception. Anniversaries make it easy to connect with who we were when we first got clean and sober. Like, Friday night, I thought more often than usual about how my sober decade began.
My first day sober was the most anguishing experience of my life. I hadn't slept in days and was coming off a night of delirium tremens after my friend took me with him to Mexico to detox. I need no further prove that addiction is a mental illness than this: my clinical insanity peaked on my first day clean and sober. I heard things. I saw things. I was unable to sleep or eat. I was so ready to die that I believed the end of the world was here. Leave it to the alcoholic to be so selfish that his mind convinces him his death will mean the death of all humanity.
That is the gist of the story. And I know that one day, on this blog, I'll find the courage to write out the details of that day in Mexico when, ten years ago I should have died. But much like the celebration Friday night, I feel more ready to exalt in the joys of sobriety than wallow in the depths of my former hysteria.
I find the mundane more interesting than the mayhem.
Suffering from a drug-induced psychosis is not how anyone would imagine a sober decade beginning—except for people in recovery.
The good people in recovery. It is people who got me sober. It is people who keep me sober. It is people who join me to celebrate their sobriety, and leave me to cultivate my own.
It is people in recovery. It is people who are not in recovery who support those that are. It is other people that bring my ultimate joy and satisfaction in life.
Take Friday night. One reason of my high-running emotions was knowing where I came from ten years earlier, another was about where I was in that moment on Friday. I loved everyone in that room. I shook to think about it, the many ways I've learned to love people in sobriety. These are people I would do anything for. My wife who has supported me through all my existential bouts and identity crises. My sponsor who puts up with my over-inflated nonsense—or as he called it Friday night, the times when I am "too serious." My friends who call me or text me or tweet at me when I'm down to lift me up.
I tried to follow these thoughts on Friday night in the quiet mental space of the meeting, and I felt like my heart was going to explode. There is so much love in recovery that the hardest part becomes understanding you are deserving of it.
I used to think recovery was all about letting go.
What I'm learning is that letting go is the start.
Recovery is about the people who carry you when you do.