Expectations
I'd like to tell you a story about expectations.
And because it's fall and the air is drying and the pressure is dropping—because it's cold in the mornings and there is an advertisement for Pumpkin Spice everything, I am going to tell you a story about Halloween.
This Pumpkin Spice thing is killing me. Let me just go on record by saying that Starbucks, in their signature fall latte is doing to my favorite season what Hallmark has done to the feast of St. Valentine. No, I don't want to try your Pumpkin Spice pancake mix or scented candle or cereal. I want to go to a Pumpkin orchard and pray for mercy.
This is no tangent to my theme of expectations. I think our zeitgeist, which is either expecting to sip on pumpkin spice lattes or be offended by them, seeps most of our time as modern, technologically connected humans in expectation.
As my friend Damien told me, we spend October expecting Halloween, November expecting Thanksgiving, and December expecting Santa. My wife and I have a yearly squabble over when Christmas music is allowed to play in our cars and at home. I conceded to the day after Thanksgiving, which seems like a win until you realize that one month of your listening year will undoubtedly be consumed by Johnny Matthis roasting chestnuts and Madonna luring poor old Claus away from his devoted and snowbound wife.
What I'm getting at is that spending an entire month, often longer, anticipating the joy of Christmas morning is bound to create some disappointing Christmas mornings if it holds true that our expectations are inversely proportioned to our happiness. And if that is the case, why do we, culturally, subject ourselves to such misery?
Why do we live in a state of expectation rather than exultation?
The Halloween of two years ago is my case in point.
Knowing it was the first Halloween my son would likely remember, we wanted to make it special.
We got the full Batman suit like he wanted. We thought that was interesting because he'd never seen the shows or movies. As usual, he takes what the big kids talk about on the pre-school playground and wants to have it for himself, the same way adults walk into a Home Depot in early October and leave thinking we want a ten foot yard zombie or a cauldron of dry ice.
When he began talking about Batman in the summer, we told him we'd get him the costume for Halloween and he could wear it then. The expectation train left the station then. Perhaps a day or two would go by without his mentioning it, but I guarantee that between July and October, a week could not pass without our son asking if it was Halloween yet, and upon hearing it wasn't, moan in asking when Halloween will get here.
It's not all the holiday's fault.
We have a preternaturally gifted drama king in the house. My son can roll out quite a yarn. I mean, right here on this blog I wrote about the day his viewing of the home screen to Medieval Times on my wife's computer triggered a fascination with knights. That was 16 months ago. And he's still going strong:
I didn't think it was out of the ordinary to hear him exhaust his desire to get dressed up like Batman. But we stuck to our game plan, teaching him how to wait for the things he wanted.
The day came and the excitement in the house bubbled. When he first donned the outfit, the Batman persona consumed his three-year-old psyche. He was Batman.
And he strutted around every square foot of our property as if to inform every closet and blade of grass that Batman had arrived.
"Now's the fun part," I told him. We got in our costumes: Gordon, Cat Woman, even his sister was Batman's sidekick Robin: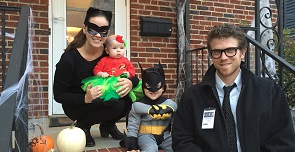 "Let's go get some candy," my wife told him.
This is where expectations collided.
Walking around the neighborhood and acquiring candy was not in my son's vision of Halloween. He may be the only child immune to sugar bribery. The only thing he cared about was his costume. All we cared about was the custom. Our Halloween was Trick or Treating around the neighborhood as a family. His was parading around our living room as Batman. Which he did for hours before dusk.
In fact, he jumped and rolled and flew so much before leaving, that he fell asleep on my shoulders before our first house.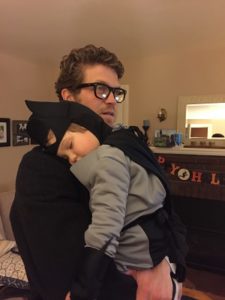 That's expectations for you: an over-excited toddler passed out from exhaustion bearing down on your shoulders like dead weight as you try to give your other child, the one who won't remember the night, a true Trick or Treat experience.
---
I raised the topic of expectations this week because I wanted to explain why we we're struggling. On Monday morning, when my wife and I heard from our mutual sources about the Las Vegas massacre, our week began a slow and steady decline.
What continued to sink me into rage was the way we seemed to bounce back from the horror, as if mass killing is becoming another periodic event for us to ritualize. For a country that lives off anticipating the next big something, perhaps we're equipped to move on faster than we should.
Monday night we raced our kids away from the news broadcast. Our son wanted to talk about guns on the car ride home.
"What about the good guys? They need guns," he said.
My wife turned around. "We need more good guys. But whatever the good guys do doesn't change the fact that guns kill people. Guns are bad." It was refreshing to hear my wife deliver preschool morals, especially in a time when the preschool language of good guys and bad guys is used in the rhetoric of policy makers.
Sunday night's shooting struck the core of my expectations as a parent. I saw a tweet from my friend and fellow writer, Dave Pigeon: "My sons, This isn't the world your mother and I believed would be waiting for you. But it is, and in our ways, we'll work to improve it." There's nothing more I could convey to my son this week. But while he's ready to talk about guns and good guys and bad guys, he's not ready to learn about the world yet. He's not ready to learn that some people are beyond bad. That evil people and the power to carry out evil plans continue to be fostered in the world we've created.
I've learned in recovery that creating big expectations for yourself is a dangerous and futile game. I've found that to be true by experience. You just never know what expectations you hold in the core of heart until a lone gunman trespasses over them.