Fathered
Ask me what I want for Father's Day.
The first thing I think of is time alone.
In my first year sober, I heard "don't isolate". But there is a difference between isolation and solitude.
I heard my disease "wants to get me alone so it can kill me." I heard Omar Pinto, in his Shair Podcast  cite Johann Hari's Ted Talk on addiction. Hari claimed the opposite of addiction isn't sobriety; it is connection. If we sever that connection, if we isolate, we are doomed.
Solitude, on the other hand, means to be alone but stay connected.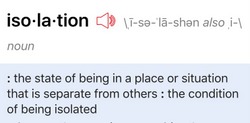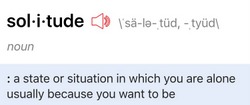 Just how did the word isolation get the short end of the lonely stick? That I'm not sure of. The two words have the same etymology, stemming from the latin word for alone: "solus".
Somehow, solitude became the more poetic of the too. Alexander Pope's Ode to Solitude could never have been Ode to Isolation. Language just works that way sometimes, like how "stone" implies smooth and "rock" implies jagged based solely on the way the words sound.
---
Drinking and using, I felt the cold sting of isolation. Clean and sober, I've come to love the blissful peace of solitude.
---
I had a dream once of Yeats's "Lake Isle of Innisfree." (Nerd alert) I dreamt, as the poem suggests, that I built a cabin by the lake where I could find absolute peace. In the dream, I could hear "lake water lapping with low sounds by the shore." I see the love of solitude as a romantic notion between me and my soul.
So, ask me what I want for Father's day.
I'll tell you. I want my time. I want the freedom to let my thought wonder—to read this, to write that.
Such time is hard to come by. I scramble and hustle for it. I carve it out my day carefully, sometimes frantically. I'd say the ratio of time I spend doing the things I have to do in order to do the things I want to do is about 15:1.
So, on the day that is devoted to making fathers happy, I naturally think: give me some time alone.
The problem is, without fail, I am at the peak of enjoyment in the prospect of getting some alone time, when I can think ahead to how great it will all be. (Read here) Once I find my fortress of solitude, my cabin by the lake, it is too buggy, or I forgot to pack extra underwear.
---
The romantic getaway with the soul becomes another hoedown with the ego.
---
The phenomenon that what I think I want is not what I truly want gets me every time.
And on this father's day, it brings me to a truth I can't avoid.
Being a father is the greatest joy I have ever experienced.
Sure the joy isn't consistent. In fact, frustration, anger, anxiety, and stress are so finely woven into the tapestry of parenthood, that they are often the only threads I see. But when it's good, it's the best. And it rarely gets good when I expect it too. It gets good at the end of an awful day (Read here) or when I'm rocking my baby girl to sleep. (Read here)
---
Parenting makes the mundane miraculous and I don't have to go build my fortress of solitude to achieve it.
---
Then I think about it some more. Our egos twist us into knots. Time alone on father's day? How ironic would it be to celebrate the joy of being a father by escaping from family? It's proof that what I tell myself I want is not what brings me satisfaction. What brings me satisfaction is being dad. It is the habits of being a father that bring about true happiness, not the habits of doing what I think makes me happy. My children and my wife provide me with this satisfaction; all I need do is show up.
This morning my inquisitive toddler told me, "Happy Father's Day daddy."
"Thanks bud."
"Daddy—why is it father's day?"
"It's a day for me to be grateful for you and your sister. Grateful that I'm a dad."
Like satisfaction, insights occur unexpectedly.
Ask me what will bring satisfaction this father's day.
What if I set out to want to do all the things I have to do.
I would want to do them because I am able to do them today. I am able to be a man and a father and a husband. I am able to be counted on. I am able to do most anything because I am free from the bondage of self, free from the burden of self-consciousness, and the prison of booze and self-medication. I am free from the urge to be someone I'm not.
What if I could see my role as a father as a blessing, not a curse. Instead of "getting fathered" all day, battered down by the responsibilities and commitments of parenthood, I can embrace my role.
So, for the last time, ask me what I want for Father's Day.
I want all the love-shook turbulence of a toddler and 1-year-old. I want to clean my girl's diaper until not a spec of shit remains. I want to treat my son's tantrums with patience and calm. I want to change my plans—all of them. I want to relinquish my need to carve out time for myself.
I want to be a part of this turbulent rollicking love we call family.
I want to be a father on father's day.