The Fear of Forever
The Association of Writers and Writing Programs (AWP) annual book fair stretched before me: a dozen aisles of small presses spanning the length of three football fields. I had one day's attendance to soak up whatever I could.
It was daunting.
I came there because I wanted to turn a new leaf as a professional writer. What I learned is that becoming a professional writer does not resemble turning a leaf. It's much harder than that. In fact, with over 800 presses and journals on display, becoming a professional writer felt like chiseling my name in the rock of Gibraltar with a scalpel.
As is true of any worthwhile endeavor, there is no easy way forward. Presses require months to reply to your piece because they receive so many. At the Washington Convention Center, over 12,000 writers were after exactly what I was after. The smallest of presses receive hundreds of submissions a week.
Like a good addict, I attended the event hungry for some instant gratification, expecting to be discovered in some way. Like a good addict in recovery, I left with a humbled understanding of how I fit in the world.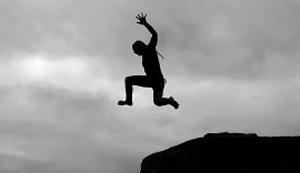 My fear of forever too often shudders in the present moment. I know the man or woman in recovery can relate. How about when you first got clean and sober, and a lifetime of abstinence has its eyes on you like a magnifying glass under sunlight.
ME: "You mean, I can never drink again?"
THEM: "Not safely, no."
"What about when I'm an old man, bedridden—I can't hurt anybody because I can't leave my bed. What could a drink harm then?"
"You're missing the point."
"Which is?"
"We just don't drink today."
"Right. We just don't drink today, forever. It is a forever of todays in which we don't drink."
"Or use."
"Right. We don't drink or use today in order to not drink or use ever again."
"Now you're getting it."
"What if I lose both legs in a sober boating accident—"
"Just keep coming back."
There is a burning need in me for closure. I either can drink, or I can't. I either am a writer, or I'm a hack. I feel this need to identify in extremes despite life's repeated attempts to inform me that happiness isn't a black-and-white measurement.
Acceptance is.
If I can accept that I am an alcoholic, then I won't give a shit about taking a shot of whiskey on my death-bed; I just won't drink today.
What I'm getting at is this: I'm finally willing to admit that I am a writer.
What this means is that no person or press can change the fact that I am a writer. It means that if ten years from now, despite all my efforts to get published, all I will have to show for myself is a personal blog on recovery from drugs and alcohol, I will be thrilled because it will mean I have been writing for 10 years.
This may sound simple. But if you followed my forever-in-a-day dialog above, you understand that the I am a writer no matter what bit is a tough pill to swallow.* It means I must disregard those minor hungers for praise and positive reinforcement. It means I can't measure my success according to who deems me worthy. It means, in short, that I must be happy with the mere fact that I write.
(*Funny thing, swallowing pills—you swallow them whole right? I always did anyway. And don't give me that "what about if you grind them into powder and snort them?" bullshit. Snorting them whole is the same as swallowing them whole, quit identifying out. My point is that the expression—tough pill to swallow—is troublesome for me. While pills are meant to swallow whole, life is not. Life is made to struggle against, to wrestle with, in small satisfying increments. That's why the pill analogy is incomplete to me and—much like my physical addiction to pills themselves—dangerous.)
Simply writing shouldn't be a problem for me. I wrote for years without thinking about getting published. In fact, it was only since the blog came out a year ago, and readers responded with kind appreciation, that my imaginary race to the top of the mountain began.
In my first month of sobriety, writing was my elixir, my medication. If I didn't put the pen to paper, I couldn't sleep right, like sleeping in someone else's bed just doesn't feel the same. Writing is the reason I became an English teacher in the first place.
I had to ask myself, after nearly a decade of writing: why haven't I at least tried to make it as a writer?
The answer's not easy to face—until I faced it.
Deep in the recesses of overlapping brain tissue and dark matter, the fear of forever kept me from trying to publish for all those years. If I don't try, I don't have to fear the rejection. Some see it as a symptom of perfectionism. By not putting myself out there, no one can tell me that I don't have what it takes. By not trying, I don't have to face the finality of being or not being who I want to be.
This is what AWP's warehouse-of-small-press intimidation taught me: I can knock on the front door of the publishing world in full confidence because, whether or not someone answers, I am a writer.