Broken
Welcome to many a dinner-table conversation.
Mir: "You've got some food on your face."
Me: "Oh, here?"
"No."
"Here?"
"No."
"Here?"
"Dude. It's in the drool spot."
"Got it."
The drool spot is a two-inch wide section from my left lip to chin. Behind it, a decade ago, I broke my jaw. Or, my jaw was broken. How could someone ever break their own jaw? It doesn't matter. If I didn't get stumbling black-out drunk on Jagermeister, my jaw would still be intact. So, fuck it. I broke my jaw: a two-inch fracture of the mandible bone. (That little doozy of a store is HERE)
Surgery repaired the jaw. New skin grew over the small rod that holds it together. Occasionally, that rod will hurt if I get hit going for a rebound in basketball or something. It sort of shakes and then the bone throbs. I can hear my mother asking me to wear a mouth guard when that happens. But, for the most part, it is fully healed. There is only one minor glitch. I can't feel that part of my face.
The drool spot collects and stores saliva, over-applied chapstick, excessive condiments, anything, really. If it's on my face and I can't feel it, that's where it has to be. I've grown so accustomed to not feeling that part of my face, that it has just become the unfeeling part of who I am. It's like how you don't realize you are right-handed until you try to write with your left and it takes you ten minutes to write a sentence. I simply don't feel that part of my face, and I don't question why.
Occasionally though, like when my wife has to point out there's been a piece of turkey dangling from my chin since lunch, I'm reminded that, much like my jaw, I am broken.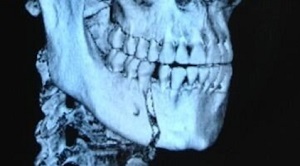 Surprisingly, knowing I am broken has been a great gift and asset to my well-being.
For so long, I was above receiving help, beyond the advice, too smart for directions. I never wanted to admit that I was broken up, insecure, emotional. I was paranoid and delusional, but I was doing just fine. It's all bullshit really. That whole just fine bit. Fine is too reductive. I'm never just fine. I could be OK, of course, but even then I am just fine with a splash of jealousy, or just fine with hint of resentment. Most often, I am just fine and just a tad bit angry that you asked me how I was doing.
Broken people make a broken world. Our country is not, nor ever was, a beacon on a hill. It is a broken land filled with broken people. Take comfort in that fact: we are like everyone else walking the earth—no more or less special, capable, or dream-ridden.
So broken myself, I can't help but think all the world's problems could be solved if everyone just admitted that they came from a broken home. Instead, we save the term for the extreme case of drug-addicted parents and sexual abuse. We're all broken. How could our homes be any different?
It's our strive to be perfect that keeps us from progressing toward perfection.
It's part of that insidious urge to appear like we've got it all figured out when we really don't know the first thing.
---
And that's why I'm glad for a jaw that suffered permanent nerve damage. It's not just mustard going unnoticed on my lip, it's a reminder that I am broken. The great myth that plagues us all is that humpty dumpty was whole before he fell off the wall. It's not a matter of all the kings soldiers putting him together again, because he was broken in the first place.
---
I love to—with empathy—hear about that permanent scar, that regrettable tattoo, that broken bone, that constant reminder of your brokenness. After all, if we don't know we're broken, how can we heal?