Keep Listening
We get bad news in funny ways in today's hyper-connected world. Friday's email came via paperless post from the family of a friend—an invitation to his memorial.
That's where the progress stopped.
I had been writing my ass off, working hard to, you know, march through March like I intended. In fact, I received that email just after sharing a new article I wrote for The Fix. I'm hoping to raise awareness concerning how our system mishandles those who suffer from addiction; I'm making plans with different prison outreaches. And then I learn that my friend died from an opioid overdose.
The train came to a screeching halt without reaching the station.
This post is the first thing I've been able to write since hearing the news. It's not that I've been incapacitated with grief; he was not a friend I was in regular contact with, but he was a friend I've shared many a drink and drug with, and he died, a sufferer of addiction. It's not news you process like the news you see scrolling through the morning's feed.
Why couldn't I just keep up with routines and move forward, knowing that these things happen all the time? Why couldn't I sit in church on Sunday and know that God's got all this, that I don't need to worry? Why couldn't I think to the good times we shared instead of the reunions we couldn't?
I lost my routine. I got up early Sunday like I always do, but I had nothing to write. I apologized later to my #5amWrtersClub.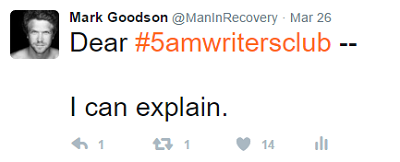 It was like a thick fog settled over my brain and I couldn't find my way back home. Instead of creating, I wanted to destroy, to tear everything apart. I was chippy with my wife and short with the kids.
I also heard a new song.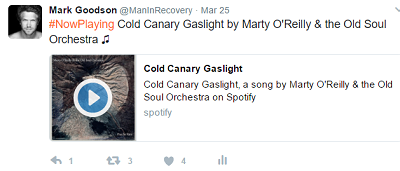 A piece of art has no objective perfection. But I believe art can fit us perfectly, pin us exactly to a moment of sorrow or joy. Art can know us better than we know ourselves. In that relative sense, this song was and is perfect. The song broke me, cracked me, right where the healing needed to happen.
It's off Marty O'Reilly and the Old Soulful Orchestra's debut album. The violin plucks, the base runs to searing imagist poetry. The song wouldn't let me go. I listened to it eighty-seven times, according to my Spotify history. And while it wouldn't let me out of whatever fog I was in, it told me with each listen that the fog is an acceptable place, that I can accept the fact that I am pissed-off, angst-ridden, and devastated—that what isn't comfortable is perfectly acceptable. I played it over and over again.
At one point my wife had to hit pause on my phone.
Another time, in the car, my son said, "this song is scary."
No doubt it scared him. It dances in the unspeakable darkness, perhaps in the mine shaft where the cold canary gas light goes out. It's those places where we need to know and understand we're not alone; that how we feel, no matter how unnamable, is what it means to be a human, what it means to be alive.
I kept listening.
I keep listening, hoping that relief will come.
I tell myself that his life, while lost without need, was not lost without purpose.
And I keep listening.