The Walk
My routine has changed.
Tree limbs falling through car roofs will do that to a man (See "Murphy's Law"). Miranda leaves at 7 a.m. for work. Everett's pre-school doesn't start until 7:30.
So we take the walk.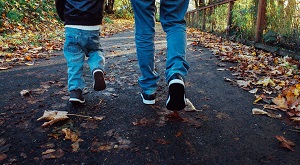 Always eventful, the half-mile walk to drop Everett off each morning is a mixture of humor and frustration. Some days he agrees to race me. Other days, he stands in the crosswalk and asks to play the "go the wrong way game."
I try to explain that while that game sounds fun, daddy has to go to work.
"But I want to go this way!"
We stand and argue at the intersection of a child's imagination and a father's responsibility.
My favorite commuting game is when he pretends to be daddy. It involves a lot of hand-on-hip placements, I-told-you-so finger points, and lowered-octave commands.
Chaotic mornings have become routine. So has fixing one thing after another.
In this process, I was reminded how important routines are. My first sober routine was making my bed in rehab. Sobering up, I was disgruntled, stubborn and willful. I refused to make my bed the first morning for the simple reason that someone told me to.
"You can't go to breakfast then," said my counsellor.
"I don't care," I said as I marched to the living area and sat down with an acoustic guitar.
I started playing the chords to Bob Dylan's Black Diamond Bay as loud as I could. My counsellor re-visited me after 5 minutes with renewed strength to break my will.
"Go and eat Mark."
Amazing how—only 24 hours from a psychotic break—my will remained strong.
"No." I stared at him as I played.
He ripped the guitar from my hands and said, "Get your ass to breakfast. Eat something."
I thank God for the tough love I received in early recovery.
I started making my bed every morning after that. My counsellor added a prayer to my routine. (See "Prayer") From my knees, I clasped my hands over neatly tucked sheets daily.
I began—both physically and spiritually—to feel good about starting my day. I established a routine.
I am a creature of habit. My habits used to bring out the creature in me.
My drug habit reduced me to an automaton of craving, a predator who preyed on my own morale.  
Today, my habits revolve around accountability. I haven't missed a football practice in 8 years of coaching. I am responsible to show up for the team. I need that accountability in my life. It anchors me in purpose and fills my life with meaning.
Routines change. And my habits are constantly re-creating who I am. A daily routine of prayer, service, and accountability creates a better version of the man I will be tomorrow.
As long as the first priority in my life is other people, my routines are the engine on the road to a happy destiny.