Stealing Time
When it comes to stealing time, I am a regular Jesse James.
With two kids and all the responsibilities involved with raising them, I have to view time like a commodity, a treasure I hoard away.
I go to bed early, so I can be up early, stealing time. That doesn't always work out. Just recently, I grew too accustomed to that morning solitude, and I had to be, once more, cured of the cure, so to speak.
So, sometimes I sleep in. I sleep until my daughter cries to get out of her crib, or my son comes into our room, holding his stuffed bunny limply by his side, asking for pancakes. I only sleep in after being up stealing time the night before, mind you, doing something after they both were in bed.
One way or another, I steal time in order move my many projects forward.
This is the first week of my summer break from teaching.
Summer, for the teacher, is stealing a pirate's booty of time. This is also the first summer that I'm not coaching football. I set all sorts of goals for myself, mainly writer related.
My wife is a great supporter. She needs to be. I spend all my free time doing something without pay. What's hard to understand is how badly I need to do what I'm doing, how badly I need a higher purpose in my life that requires commitment. For me, it's these non-toxic intoxicants that keep me from returning to the toxic ones. It's hard for people to understand.
"Summer break begins!" She said a few days ago. "What are you doing tomorrow?"
"There's a lot of stuff I need to do."
"It's summer. You should do what you want to do."
"It is what I want to do. But I need to do it too."
"Doesn't sound fun."
"It's not always fun. But, it's satisfying."
And I got after it Monday. Submissions, cover letters, and, of course, writing—I was able to fill a few blank pages. Then I began setting up a community page here at the Miracle of the Mundane. A place to link up to all the awesome people who inspire me out there on the inter-web. It's coming soon.
When I'm productive, there is an internal clock playing in my head. When you are stealing time, you desire to make the most of it, to not waste a second. I worked through lunch. I biked the kids into daycare and preschool to get some exercise in and fulfill the drop-off chore—two birds with one stone, I thought. I felt very satisfied at the end of the day.
Then Monday night brought the unexpected, as any good story does.
I find it remarkable how parents know when their child is experiencing a fever.
Even a slight one. If the child's body temperature is 99 degrees, just four tenths above normal, I or my wife—especially my wife—can tell by feeling a forehead. When it comes to guessing what temperature it is outside, give me a +/- five degree margin of error. I'll tell you if it's in the 70s or 80s. There is a precision to the instincts of parenting that no amount of modern distraction can change.
Our two-year-old daughter spiked a fever Monday night. She was burning up, nearing 105 degrees. I took her to a pediatric urgent care at midnight. We checked her temperature throughout the night at intervals. She was up often. I stayed with her at home on Tuesday. I cancelled all the things I told myself I needed to get done that day.
I lost a day.
All that time I stole and stowed away for myself. Gone. But, with my baby sick, I didn't have time to even think about it.
We were both on very little sleep. She was needy and I was accommodating. I didn't think once about all the affairs I lined up to plow through that day. I held her, and read to her. She rested on me all day, completely still, except for her heart beating over the top of mine. We never went far without her clumsy steps staggering like a foal toward me with a, "up, daddy, up," and my, "You want up?" and her, "yeah." That puppy doggish, "yeah."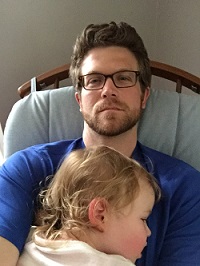 She reminded me of something on Tuesday.
Every time I pick her up in my arms there is a moment when her little body succumbs to the laws of gravity, when her legs no longer have to resist it. She lets go of the earth's pull and fastens to me, knowing that I will protect her from the spinning world. And each time she does that, each time she lets go, each time she yields, my love for her grows. It feels like she coats my heart with pain medication. Worries melt like butter. I share in her release of the world. And we sit there together, in a rocking chair, or at a park, or anywhere, burrowing into each other, hoarding our love away like squirrels stowing nuts for the winter.
---
It's in these moments that time dissolves. My daughter steals the time I've hoarded, throws it to the wind to scatter like the seeds of a dandelion.
---
All the time I had fought so hard to create for my many self-important endeavors vanishes. I don't watch it go. It's gone before I care to look for it. She's made off with all that time before I can catch her in the act.
These moments are breaks from the pull of the world; they feel timeless. And feeling timeless is a good reminder that time itself is an invention, a ploy to live our lives by the invisible hands of a digital clock, rather than the physical hands of our children and loved ones. Where the hands of time would strangle us, our hands cradle, embrace, heal.
I would give her all the time I ever stole, and every day after that.