Radical Ordinary
The radical ordinary.
It's a new phrase I'd like you try on; see if it fits. You can return it whenever you want for a full refund, no questions asked.
I offer it to you because extraordinary is no good for me. It tells me that the "extra" in life lies outside of the ordinary, the regular. That's not what I'm about folks. As much as he entertains, Superman will not leap a tall building to save us. After you've paid your ticket for the most radical CGI replication of Metropolis, you're inevitably back to the same old city or town you live in. No matter the size of the screen distracting you, the fact is unavoidable. But it's all right.
The ordinary kicks ass.
I mean it. I used to think the ordinary was mediocre. I thought it was unworthy of my enchanted life. My enchanted life ended with me streaking the dirt roads of Mexico believing the Apocalypse had hit. Then I got clean and sober. I crashed back to reality, set up camp in the plain and simple. And I like it much better this way. It freed up a lot of mental space. I like to free that space with books.
---
I updated the Miracle of the Mundane Facebook page with my latest reading. In the past two months I finished Infinite Jest for example. You can read my thoughts about it, and other novels like The Circle and Americanah here.
How do I find the time to read Infinite Jest you ask? I don't. I listen to it.
Audible has doubled my capacity to get through books. I can't get enough. It's amazing. I squeezed in, for example, A Short History of Nearly Everything by Bill Bryson. I have been dying to read him for a long time. Audible gave me permission to hear his work while I wash the dishes, fold the laundry, and drive my kids around. It is powerful stuff, I tell you.
Bryon's A Short History mentions the radical ordinary in the prologue, using the prose of a poet, and the facts of a scientist:
To begin with, for you to be here now trillions of drifting atoms had somehow to assemble in an intricate and intriguingly obliging manner to create you. It's an arrangement so specialized and particular that it has never been tried before and will only exist this once. For the next many years (we hope) these tiny particles will uncomplainingly engage in all the billions of deft, cooperative efforts necessary to keep you intact and let you experience the supremely agreeable but generally underappreciated state known as existence." -Bill Bryson's A Short History of Nearly Everything.
You may be at your peak of boredom standing in line for your Monday morning coffee to start a work week, but when you factor in the dazzling array of happenings, the cosmic shifts, the chemical mutations, the atom formations that led to your body standing in line for coffee on a Monday morning, you have the radical ordinary—the jaw-dropping appreciation for the gift of existence.
Having it, that gratitude, makes certain moments, considered dry parenting to some, particularly lush. Here are two moments that demonstrate what I mean. One is a scene, the other is a picture.
The Scene
I drove my son by the school I work the other day.
It's summertime and the parking lot is blissfully empty on a school day.
"That's where daddy works!" he said, pointing to school, eager to show off his knowledge.
"That's right," I said.
"Why?"
"Why what, Ev?"
"Why do you work there?"
"Because I love to teach."
"Why?"
"Because after I'm done teaching, I feel really good."
"Why?"
"I don't know exactly. But, they pay me to feel good about myself. So I keep going."
And there it is. The four year old helps me frame my life in simple terms. In ways the radical ordinary understands. I get paid to do what I love. What more could I want?
"I love going to school, too!"
"Is that right?"
"Yeah, I love school. I love days when I don't have to go to school. And I love when I go to my drama class or soccer practice instead of going to school."
"That's called the weekend, Ev. It's not school. Don't you love playing with your friends all day? On days when you're actually at school?"
"I do."
"And don't you love your teachers?"
"I do."
"Well then, don't you love going to school?"
"I just like being with mommy and daddy better."
It's these moments. My son is so honest about how he feels because he has no reason to say otherwise.
I drive with a child can be so painfully ordinary, or so breathtaking exceptional. It just depends how you choose to look at it.
The Picture
Now some of you are busy and don't want to read about boring trips in the car.
For you folks hell-bent on getting your fix of the radical ordinary before the barista tops your drink with whipped cream, I'll give you an image. It was taken last week in the woods of Pennsylvania.
My daughter is my best reminder of the radical ordinary. The life we've given her is an indicator that life was given to me. At my best, I'm not living my life, but the life God has planned for me. It's a mighty thought, considering the DNA that makes me me was once a swirling mass of oblivious chaos.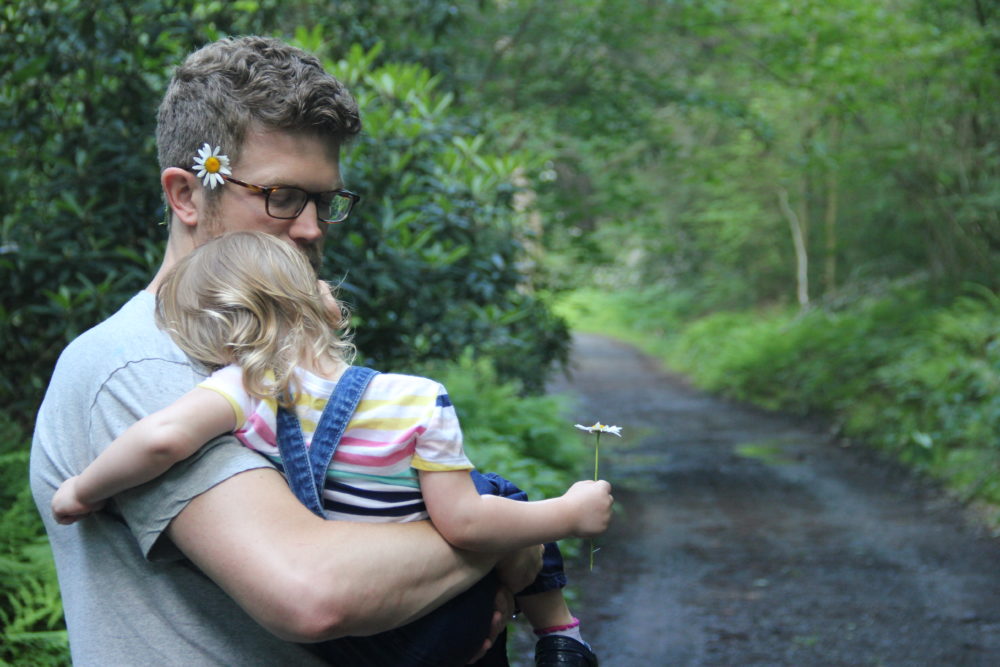 There's the daisy she gave me. There's the daisy she plucked for herself. There's the long road ahead. There's the protection she needs. There I am. I am there. Because I showed up. A hike in the woods is so much more. It has to be.
The ordinary is radical. You just have to stop and think about it every now and then. This has profound implications. It means we have radical opportunities all around us. We have radical choices to make. Ironically, often the most radical thing to do is to be satisfied with your ordinary life.