Murphy's Law
Murphy's Law states that what can go wrong will go wrong.
Over the past two weeks, my life has been an exercise in that bitter adage.
Two Saturday's ago, we hired a handyman on the cheap to fix our first-floor bathroom faucet. When I took a shower later that night, water poured through our tenant's ceiling below.
The next day, after a long string of football staff meetings, I came home to this: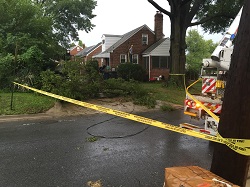 Pepco soon restored the power. I borrowed my neighbors chainsaw and had some fun cutting the wood up.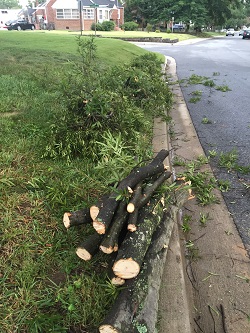 Problem solved. My wife remarked: "strange for a tree limb to fall out of nowhere like that." I agreed.
On Wednesday that week I woke up to this: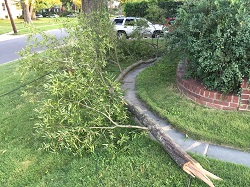 A different tree limb fell. This one knocking out our cable and phone wires.
"What the hell?" I asked my wife. The tree company we used to help us weather a spring storm (read that story here) gave us a good rate on limb removal, examined the tree and found it perfectly healthy.
Water in our basement came next, soaking our tenant's bedroom carpet. This problem has been recurring for years. I dug down to the footer and re-tarred the foundation wall. I put a french drain in to help move water away from the house. And still, on a perfectly dry day, water rose up through the concrete slab of our foundation. Luckily our waterproofing company offers 12-month interest-free financing on the sub pump they will install Wednesday. Otherwise, I would be selling my body to science rather than writing this post.
This past Thursday, before my first sip of coffee, I see this out of my kitchen window. A third tree limb fell, smashing through my car's windshield and denting the roof.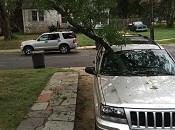 I shit you not. I would list the other mishaps but I am currently nauseated from reliving one hell of a fortnight.
The timing of it all hasn't helped. Miranda is back to work after 2 ½ years in graduate school. Strangely enough, the dates encompassing these home-owner headaches will be the same dates comprising her first pay stub, which will promptly disappear in electrician, plumber, tree-removal, and foundation-repair payments.
Why us? Why now?—the obvious questions on our mind. Why has Murphy's Law descended upon our home like a swirling tornado of leaking faucets and falling limbs? Is God telling us we are destined for financial struggle? Is God telling us to move?
I found an entirely different lesson.
What if I could believe that we were spared of these problems until Miranda got back to work and we were in a position to deal with them?
What if a tree limb stripping the main power supply wire off our house could make me grateful for the electricity we take for granted?
What if being present to deal with this adversity could remind me how marvelous sobriety is?
Those realizations slowly saturated my conscience like the rising water that seeped into our basement carpet. I stored each one in the neuron folder titled: Truths that piss me off.
Gratitude did not get me through these two weeks. Neither did solving each problem as it surfaced like a whack-a-mole. Neither was it a big-picture faith that this is all part of God's plan. What got me through these two weeks was purpose. It was football.
For those two hours a day that I am coaching, there is one purpose in my mind: get these kids better. Make them better football players. Help make them come together as a team. Teach them how to be successful. Show them how to win.
I lose myself on that field. It is the same loss of self I experience when writing.
The same loss of self I experience when I come home and my daughter tackles me onto the carpet.
The same loss of self I experience when the bell rings to start class.
The same loss of self I experience when I give someone else my full attention at a meeting.
The truth is, I am happiest when my life is not about me.
---
When I am working in service of another—
when I am helping someone else achieve success—
when I am lost in the love of another—
I lose myself.
---
And when I lose myself, I experience the kingdom of God, the joy of living, and the splendor of existence.