By Hand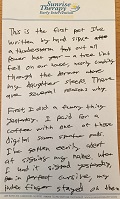 This is the first post I've written by hand since a thunderstorm took out our power last year—a tree limb fell on our house, nearly crashing through the dormer where my daughter sleeps. There are several reasons why I returned to the pen.
First, I did a funny thing yesterday. I paid for a coffee with one of those digital screen signature pads. I've gotten eerily adept at signing my name. When I had it signed yesterday, in perfect cursive, my index finger stayed on the "n"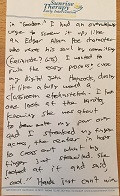 in "Goodson." I had an overwhelming urge to screw it up, like an Edgar Allan Poe character who vexes his own soul by killing a pet. It may be a result of the realization I had recently that I could thumb characters on my phone without looking. My bulbous thumbs had honed the precision of a typewriter on a space smaller than an index card. Whatever the reason, I wanted to ruin the easy process, curse my digital John Hancock, destroy it like a bully would a classroom etch-a-sketch. 
I took one look at the barista, knowing she was about to make my pour-over coffee and I streaked my finger across my name, moving horizontally. She looked at it and said, "cool signature."
I wrote this post because hands just can't win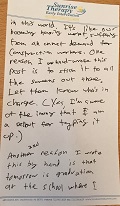 in this world. It's like our booming housing market, suffering from an unmet demand for construction workers. One reason I hand-wrote this post is to stick it to all the screens out there. Let them know who's in charge. (Yes, I'm aware of the irony that I am a sellout for typing it up. But, I think you'll forgive me. After all, getting into most any truth nowadays requires a tango with irony. How else do you turn an upside-down world right-side up?)
A second reason I wrote this by hand is that tomorrow is graduation at the school where I teach.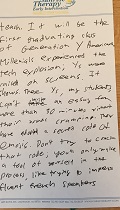 It will be the first graduating class of Generation Y Americans. Millennials experienced the tech explosion; Ys were raised on screens. It shows. These Ys, my students, can't write an essay for more than 30 minutes without their hands cramping. They have adopted a secret code of emojis. Don't try to crack that code. For the love of everything holy, don't try to communicate in it; you'll only make a fool of yourself in the process, like trying to impress fluent french speakers with what you remember from your high school french experience.
Ys prefer Snapchat to Facebook. It comforts me to know that Facebook can't wrap its tentacles around them. No one likes the choke hold Facebook holds us in. It gives me hope that Facebook won't morph into a totalitarian state like in The Circle. (If you haven't seen or read The Circle, I highly recommend you read the book by David Eggers)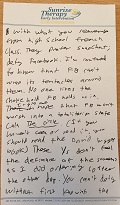 These Ys don't feel the defiance of the screen as I did ordering coffee the other day. You can't defy without first knowing the alternative. Parents know the logic. If all your child knows is Kashi brand unsweetened wheat cereal, he or she can't miss eating Frosted Flakes. If all they've known is screens, a pen to paper is not an act of defiance, only an antiquated and cumbersome waste of time. By their logic, if it's not shared on a screen, what's the point?
The point is that these emojis are modern hieroglyphics. Hieroglyphics are cool because they were discovered.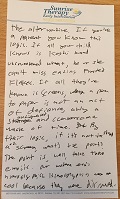 Electronics require a human to operate. Whatever comes after the 6th extinction—said to be the one that extinguishes humans—will only have what we produce on paper. That's why print books are still cool.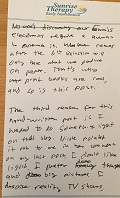 The third reason for this hand-written post is I needed to do something light on the blog. Melanie pointed it out to me in her comment on my last post. I don't like light; I prefer deep thoughts and big pictures. I despise reality TV shows, especially when they're sprinkled with Michelob Ultra commercials featuring some hipster who is a racquetball player by day and a low-calorie beer sipper by night. But, Melanie was right, once in awhile I just need a falsetto note; I need Beach Boys' Surfer Girl instead of Pet Sounds. Everything good comes to balance.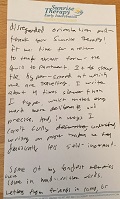 So, it was high time I use those conference notebooks, paper-bound giveaways, my wife's disregarded orientation pad—thank you Sunrise Therapy! It was time for a return to that ancient form: the quill to parchment. It shows the hyper-speed at which we are travelling. I write about 4 times slower than I type, Which makes every word more deliberate and precise. And, in ways I can't fully understand, writing on paper makes me feel drastically less self-important. Maybe it's the silence of handwriting, compared to the hammering of a keyboard.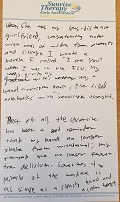 Some of my fondest memories have come in hand-written words: letters from friends in camp, or from my wife back when she was my long-distance girlfriend, or congratulatory notes with words of wisdom from parents and siblings. I wrote a novella I called I See You when I was in the ICU. My wedding gift to my wife was a handwritten book of poems. I've filled notebooks and journals with my rambling thoughts. I hand-wrote this post out of sheer nostalgia.
Best of all, the exercise has been a good reminder that my hands no longer shake from withdrawal; my thoughts are no longer feverish from delirium; and my heart rate no longer needs monitoring.
---
Sometimes, the miracle of the mundane is as simple as a steady hand and a calm heart.