Bottoms Up
I'd like to show you what a bottom in addiction should look like.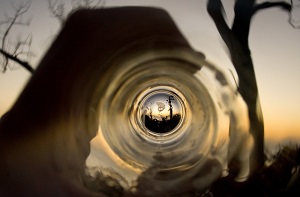 A man comes to from a black out.
Caked blood on the side of his mouth cracks apart when he parts his lips. His jaw is broken, a two-inch fracture of his mandible bone. With every movement, his jaw twinges with pain, the sinew severed, bone snapped apart like a twig.
He can't speak. The vibration of sound ripples to torn nerve endings. The swelling looks like a banana is tucked under his lower lip. He writes this on a sheet of paper to his roommate: "take me to hospital."
The surgery.
Wires cinch his mouth shut. A rod the size of a ball bearing braces broken bone together.
That should just about do it. How could a mind continue to allow such self-destruction? Surely a survivor instinct will enact his will for self-preservation. The man should never touch a drink again, the way a hand will never again test a stove-top after one deep burn. This should be his bottom.
But it isn't. If he is not ready to name his disease, he keeps digging.
He gets a prescription for liquid pain-killer.
He drinks a week's dosage the first day. He calls the doctor to refill the prescription. The doctor calls it in, but warns the addict, "Take the dosage as it is prescribed." The addict ignores the warning. The week's prescription he filled that morning is gone before he leaves work that day. He calls the doctor for another fix. The doctor says it is his last fix. The doctor says it is clear that the addict is abusing the prescription. The doctor refills the prescription but tells the addict, "this is the last one."
The addict panics. A week? For that little bottle? The pain could be medicated, yes, but what about the fix? What about the need for that extra? Not a pain-killer, but a pain-slaughterer, a massacre of the senses, the bliss of overdosed numbness, the head-to-heel sensation of complete oblivion?
Liquor won't go down easy. The alcohol burns and bores through bone. A week?
The addict hordes his medication.
He goes to work. He is paid by the hour and his habits allow no time off if he wants to remain solvent. He wants that. Otherwise, he'd have to ask for help. He has his pride, after all.
He skips each dosage during the day. He bears the pain. He learns to communicate with gestures, and head nods. He keeps his body in a monkish stillness to avoid aggravating the throb of bolted-together bone. He gets home. A whole day's worth of pain-killer to slaughter his senses.
He endures the next day, only he doesn't wait to get home for his day's worth. He takes it down in the company garage after work. He drives home unable to feel his hands on the wheel. The next morning, he realizes, since he can drive just fine on a day's dosage, he can enjoy a liquid breakfast. Bottoms up. He could float through work and figure the rest out later.
Now it's the weekend. And he knows Mexico, not a bad drive from Los Angeles, sells over the counter what you have to hustle doctors for or buy off the street in America. Everything will be all right.
Take it from me.
A broken bone doesn't make for a bottom. Neither does downing three weeks of pain-killer in a matter of days. A bottom occurs when the addict stops digging. When the addict says, "I have a problem" and "I need help." There is no requirement to recover—from drugs, from alcohol, from phone use, from over-eating, from sex addiction, from internet porn, from tobacco, from Netflix streaming, from social media, from gaming, from gambling, from thrill-seeking, from isolation, from selfishness, from greed, from praise—except for a desire to stop digging.