30 seconds to happiness
My brain puts the dope in dopamine.
Dopamine is the chemical that hooks us on certain behavior in hopes that a reward will come. Marketers are keenly aware that social media can cause a dopamine high. Notifications are enticing, filling you with the hope of a reward. You become more likely to press "log-in" or visit the site or click the application icon. 
Studies show drugs boost the body's dopamine levels, leaving the body ill-equipped to match those high levels when not using the drug. Addiction sets in.  
A McGill University study also shows that a hyperactive dopamine response to alcohol is linked to alcoholism. Alcoholics have a higher rate of dopamine response when they drink than non-alcoholics. This doesn't surprise me. I recall the rush I'd feel in just knowing a drink or drug was coming my way.
Chemicals are chemicals. I'm hooked on dopamine release in any way shape or form.
It's the rush that you feel on that initial roller coaster climb. Who cares that you've been standing in the hot sun for almost an hour and are now strapped uncomfortably to a seat that is inching forward. Your brain is a frenzy of chemical movement in the expectation of the rush.
We are hooked on the hook, not the bait." (see the poem "Feeling Twittery")
---
Huffington Post associated Dopamine with three other chemicals that produce happiness. In my amateur opinion from the little I've read, dopamine produces more expectation in me than happiness. As an addict, I've learned that happiness is inversely proportioned to expectation. Meaning as my expectations rise, my real happiness falls.
Because rewards come so easily on social media, my brain becomes hooked on the expectation of more. I've learned many difficult lessons in life, and one of the biggest is that what comes easy does not make me content.
I need to place dopamine in a category apart from happiness.
Oxytocin is different. It is a neurotransmitting chemical more associated with physical touch and endearing memories and relationships. While dopamine releases when you see loved ones open their arms, it takes 30 seconds of hugging for Oxytocin to release. Here is Dr. Paul Zak's Ted Talk on Oxytocin.
Modern technology has made 30 seconds feel like a lifetime. We used to send thoughts out in the world with written letters and have to wait weeks to see someone's reply, and I doubt that someone ever replied to a letter with this: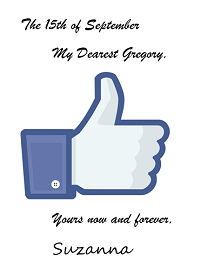 Replies were more emotionally in-depth, more likely to trigger the release of oxytocin.
But in today's world, fibre optics send information at the speed of light to every continent. This means in theory that you can post something on social media and then see someone like it from a world over in under a second.
Our expectations for that reward become instantaneous—and overwhelming.
The chemical associated with a release from pain is endorphins. These are chemicals of a "runner's high" or deep laughter, both of which are harder to come by then the actions that release dopamine. It's like the difference between selecting the "laugh til your crying emoji" and actually laughing so hard with a friend that your tear ducts activate.
versus
No matter how many times I write that I'm laughing out loud, unless I'm truly laughing, I am chasing dopamine, not endorphins.
Serotonin is the 4th chemical typically associated with producing happiness. UV rays release Vitamin D and serotonin. A simple walk outside feels good. Writer Sean Paul Mahoney wrote about the joy that a simple walk can bring. He got me thinking.
Basking in the light of a computer screen won't release serotonin the way a walk on a sunny day will. Although what an invention that would be.

versus
In fact, too much exposure to computer screens at night delay the release of melatonin, the hormone that helps us sleep.
---
I write all this because I've been unhappy lately. I've been spending too much time on devices, and not enough time in the presence of my family. I'm learning how to pursue happiness in my life. Taking 30 seconds to hug a loved one, laughing hard in the presence of a friend, or taking a walk in the sunlight do that. Checking for social media updates, emails, and text messages do not.
And I pray for the wisdom to follow my own advice, to take my own prescription for happiness.
Moving at the speed of light, internet data can wrap the earth 7.5 times in one second.
If it's 30 seconds to happiness, isn't the tradeoff worth it?