Ghost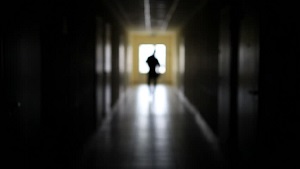 My wife's toes nudge my calf. I come to from some dream I can't remember.
The dog is whimpering in the kitchen.
"Riley. Quiet girl."
Whines become barks. One more nudge of the toe and I'm up and to the kitchen in a daze.
"It's just the mouse Riley."
Her fur is up. Huh. I think to myself. Then I hear it.
A bellow. A moan.
Then from the bedroom: "Mark?!"
"I think some animal's hurt in our backyard."
When I push the kitchen door, Riley butts her head against it.
"Easy, Riley. Easy. Sit. Wait."
A grown man is face down in our backyard in between the trash and recycling containers. "Yo. Hey! Yo!" When I realize that I'm trying to get the attention of a stranger in our backyard at 3 a.m., I step back inside, lock the door and call the police.
They arrive quickly. Back in our room, my son is in Miranda's lap, blue and red lights flickering on his face through the window shade.
Hours later, I call the police to get the report.
"Overdose. PCP. He's at the hospital receiving treatment."
The next morning I am cleaning up the knocked-over waste, and disposing of all that remained of the addict in our backyard: a blue lighter.
---
That addicts only hurt themselves in an overdose is a delusion. I thought it often, coming to in hospitals, hostels, and hallways.
Nine years ago was my father's surprise 65th birthday. I was invited although I don't remember the invitation. From Los Angeles, I could've made the drive north to see him. But that weekend, I took the drive south to Mexico.
The call came in the early morning after his party.
"Mark's in the hospital."
I hear the story at my nine-year celebration; my former self stirs in my blood, like a ghost.
Will the addict in my backyard ever lose his delusion? Will he know he kept a three-year old up half the night wide-eyed and worried?
---
I am an addict hospitalized for use.
I am an addict.
I am.
He is.
He is an addict.
He is an addict hospitalized for use.
I am clean.
He is not.
But for the grace of God, go I.