Lives Unfiltered August
For an American in July, it was a good day if the flag weren't at half mast. Austin ended one bloody month.
This Life Unfiltered movement began with a post about living in between the extreme worlds that mainstream and social media present. But it's grown past that.
This month's #LifeUnfiltered participants taught me a lot. Life comes unexpectedly or in our routines. It comes when we pose for the camera or when the camera catches us off guard. It comes in the mountains we climb on vacation. It comes at work or with family. It comes in meditation or in chaos; in transit or in stillness.
Life rarely hits us as we cross the finish line.
To quote Paul Silva, it is not about "hitting the mark." It's just about giving your horseshoe a toss.
Here is August's Life Unfiltered news roundup, proudly brought to you by the Miracle of the Mundane and those in search of life's middle ground.
---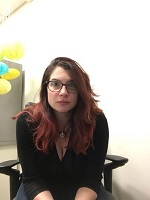 July 17, 5:45 p.m. Washington, D.C. (Twitter Post)
Laura Silverman, recovery advocate extraordinaire behind The Sobriety Collective, gave us a portrait of her Friday workday.
This was me on Friday, at work. Half happy, half sad."
Laura doubled-down with another tweet Friday at 8:05 p.m., dusting off her mic.
Is it a sign? Wearing purple, found my podcast mic, and major #LifeUnfiltered moment."
With a Bad Story Pod in the can, be sure to follow the collective for the next broadcast.
---
July 19, 11:30 a.m. Camino, CA (Facebook Messenger)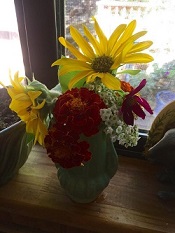 Annette was my first interactor. When I had doubts, she let me know that the blogging community is a strong and supportive one. And I'll never forget that. Here's a still-life concerning her daughter.
Hannah grows these flowers from seeds she has harvested from flowers the year before. She makes a fresh vase on my kitchen window every few days. It makes my heart happy and content every time I look at them and think of all of the care that goes into them and that she's sharing them with me."
Annette's blog is called Just for Today. She posts the inspiring, the insightful, and everything in between.
---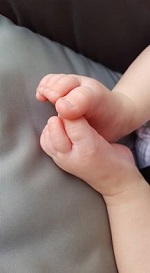 July 23, 2:44 p.m. Rhode Island (Facebook post)
Cristina Ferri captured a wonderful moment I can really relate to.
Baby toes. Look how soft and perfect. Don't you just want to stick them in your mouth and chew on them for a little while? A baby's innocence always puts my life into perspective."
Cristina's site Sober Unicorn has wonderful recovery stories, insights, resources, and a cool line of products. I recommend the Tote bag!
---
Jane Kim posted this on the Miracle of the Mundane's Facebook page on July 23, 3:21 p.m. from Los Angeles.
Most mornings I'm rushing off before the sun's even up. This little girl knows the routine well. My alarm goes off, I hit snooze a couple of times before I tell her it's time to get up. She meows in begrudging acknowledgement and goes over to her "daybed", my dresser, to get a quick brushing and a treat before I stumble off to make my coffee and get dressed. But it's mornings like this when I'm off from work and can linger in bed and just chill with her. We both love these moments. Mattie had been living outside, didn't know how to socialize with the other strays and couldn't eat without nervously looking over her shoulder. I finally brought her inside and now she's a happier and more relaxed and fattened up a bit. It took a while for her to fully relax being indoors and become as affectionate with me as she is now. We are very similar, both essentially loners and very slow to trust and truly let others in. ??"
---
On July 24, 9:12 a.m. from Steyr Stadt, Austria (Facebook) comes your moment of zen.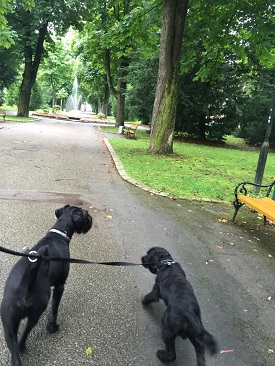 One of my favorite Zen mindful depictions is of the master and the dog walking; the dog mindful of exactly that which is sees, smells and feels but the master's mind it's full of worries, plans and fears.

When we worry about the past and plan for the future life passes us by. When we are stuck in past conflicts we fail to experience the present. What is the point in planning the most beautiful evening if you cannot enjoy it as you worry about what people may say.

Another wise Zen quote; Life is that what happens while you are busy planning and worrying."
Mat Docherty has a great challenge up on Facebook, encouraging people to drop one obsession and replace with a mindful habit. Like it here.
---
July 24, 12:22 p.m. Idaho (Twitter DM)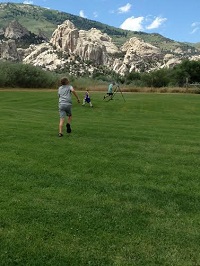 Congratulations to Jill for her continued sobriety, even on a vacation with friends!
You can follow Jill on Twitter here.
---
July 24 6:49 p.m. Baltimore, MD (Instagram)
Damien's blog "Walking in Sober Boots" aside from having an unforgettable name, is a great source of honesty and insight. He's a great blogger and better friend.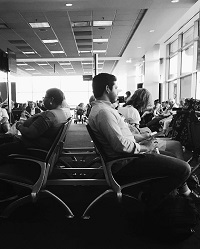 Well, this is my third week in a row traveling. This view is becoming my new normal. I feel like it's the late nineties again when I worked at Check Point Software, except that the vibe of the land is full of dread instead of hope and we now know that the free flow of information that the Internet once promised has been replaced by echo chambers of misinformation and disinformation. And still, I'm vaguely hopeful that things can change for the better. That's why I get up everyday and help people make technology decisions for a living. That and the paycheck, being honest."
---
July 25 9:52 a.m. Virginia (Email)
Maggie Shores of the popular Sober Courage captured a priceless moment at the intersection of dentistry and pubescence.
I love this picture – it's the perfect blend of innocence and defiance. At 12 and a half years old (and the half is super important) she is constantly pushing for more independence and less mothering. She no longer lets me take any pictures of her, so I often try to just sneak them in.

On this day, we were at the dentist to have her last two baby teeth pulled out because they were not coming out on their own. She didn't seem very worried about the procedure, ensuring me with, "Meh, whatevers," when I asked. But as she was laying back in the dentist chair, waiting for the pain meds to kick in, I saw her clutching her baby blanky, and I saw this super precious, sweet little moment – so of course I tried to take a picture! But her hand went up to block me, as she angrily yelled out, "You better not post this on Facebook!"

Oops. Sorry. Not sorry."
We'll do one better Magz, now the poor thing is on a blog post! Magz was recently featured on the Shair Podcast, where she provided a moving testimony to the power of recovery. Give a listen.
---
July 25, 6:36 p.m. Pike's Peak, CO (Blog Post)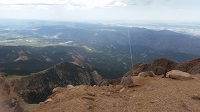 Kip Shubert is back from vacation and contributed a great piece to the Life Unfiltered cause.
The blog post, "In The Midst of Mountains, Before and After" described the mountains we create for ourselves in addiction, and the real mountains we conquer in recovery. It's a great piece.
My life is quite the before and after. To traverse from before to after I only needed to change my mindset. I had to have a lobotomy of my old self to bring in the new. Our perspective makes all the difference in the mountains we face."
Reading www.kipshubert.com is a worthwhile experience. His posts are like fistfuls of faith pumping at a rock concert.
---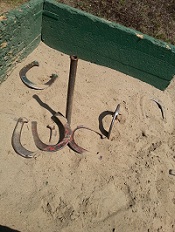 July 27, 9:39 p.m. Toronto, Ontario (Twitter)
Paul Silva needs no introduction. Unless you know him only by his twit-name Nacho Ricardo. I call this a Mic Drop comment.
It's not always about hitting the mark, but just having the sun strike your face.
If you are unfamiliar with the BUZZKILL pod and blog, you should click here and go get lost for a bit. I promise you will find something you were looking for.
---
July 27, 11:30 p.m. Missouri (Twitter)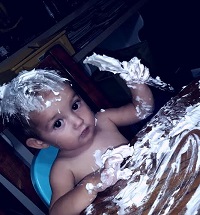 Brittany Shelton's website is Discovering Beautiful. She posts from the heart, always, and shares her journey as a woman and a mother in long-term recovery.
Messy, but not permanently messy. Unpredictable, but interesting &…I'm present for all of it."
Brittany also stays busy on Facebook with a constant stream of inspirations.
---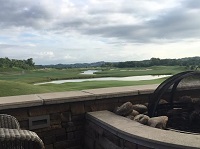 July 28, 9:18 p.m. Newburyport, MA (Twitter)
Greg Kelly is an inspiration to all us fathers out there. He shares his journey as a father and a man of faith at ragamuffindad.com 
Started morning sitting alone unloading my troubles to God …looked up realizing He's got this."
My favorite post of his is his tribute to the tribe, or the #recoveryposse that is so active on Twitter and social media.
---
July 29, 7:31 p.m. Minneapolis, MN (Facebook Post)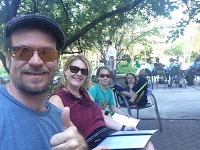 Daniel Maurer's "Transformation is Real" has a bee-hive of activity lately with guest authors and videos. He posted this simple summer moment.
Family love at our favorite summer restaurant in Minneapolis!"
Dan's mission is to bring you stories of transformation and resilience. I highly recommend you sign up to never miss a post.
---
My Life Unfiltered moment came on a ferry ride to Connecticut. Whether it a ferry, bus, or train, public transportation used to be my time to read books. Something about the movement of the world going by always gave me motivation to let other worlds form in my imagination.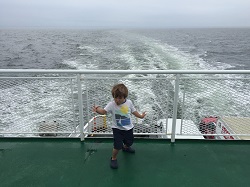 On this ferry ride, I didn't even take my book with me. Hard to sit and read with two toddlers on the deck. But watching my son run around and pretend to be a pirate made me appreciate imaginative worlds all the more.
---
My sincerest thanks for all those who thought to chronicle their real life moments.
Feedback drives the #LifeUnfiltered. If you want another roundup September 1st, the Miracle of the Mundane will be your host once again.