Why
Why?
The simple monosyllabic question is the bane of many a toddler parent. It seems to be the only question my son has been capable of asking for years.
"And Jack and his mother lived happily ever after with all the golden eggs the magic hen laid for them."
"Why?"
"Because gold is worth money."
"Why?"
"Because it's shiny and doesn't scratch."
"Why?"
"Because it's a metal. And metals are hard."
"Why?"
"Dude, metals are hard because…because…" and then comes the inevitable finale to his prying investigations, "because God made them that way."
"Oh."
I close the book and try to turn out the light.
"Daddy?"
"What?"
"Why did God make metal hard?"
His curiosity is a bottomless cave that I stumble through in dreary attempts to find a light.
Depending on my mood, I can be either patient or irritated. It's like how driving a car can tell me exactly where I am spiritually by my level of road rage. A good barometer for my spiritual wellness is how I react when he asks, "why?" If his whys make me irate and threatening, I should probably call my sponsor.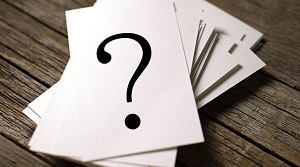 He's right, though.
Why is the most important question we can ask. Machines can be programmed to work all day. They can handle whatever routine you preset them to handle. The human element is the why element, the self-examination that sets us apart from the animal kingdom.
I've taken whys too far.
"This is the third step," said my first sponsor.
"Why?"
"Because it's the third step we take."
"Why?"
"Because we must turn our will over to survive."
"Why?"
"Because we're willful pricks, that's why!"
Now who needs a spiritual adviser, I think before asking, "why?"
"Christ, dude, it's just a decision."
Decisions were hard to come by with a barrage of introspection and doubt in early recovery. And I thought, much like my four year old, that I'm asking them for good reason. I mean, honestly, who can possibly give their life and will up to the big ether? The boogeyman? The long shadow of night? The big bold elsewhere? The supreme and mysterious why? Not me, no sir.
I wasn't always the willing sponsee I've become.
In truth, upon reflection, my daily solution, or reprieve, to my addiction and alcoholism exists outside of the why.
I don't know why I haven't thought about a drink or a drug since my friend died a year ago and I saw an ad where a bottle of Corona, beading savoringly, sat in the hot beach sand.
I don't know why I haven't ingested a mood-altering substance in nine and a half years. I can tell you all about the how. I talk with my sponsor on the reg. I go to meetings. I write. I blog and connect with others in the recovery sphere. I pray. I meditate. I exercise. I show up every day for the people who expect me to be there.
I listen for spiritual nuggets that will give me patience when my son asks why Superman was born on Krypton, or why one show a day is all the show he gets to watch.
I can tell you why I do these things. That's an easy why. I do them because I don't ever want to go back to the misery I knew as an active alcoholic and addict. Next question please.
What I can't answer is why these things work. It's the intangible nature of our brains that has classified alcoholism (and maybe one day addiction) as a mental illness rather than a moral failing or criminal act. The same intuitive nature can make bold and valid claims that the opposite of addiction is connection. But I don't care what biology textbook you shove under my nose or Ted Talk you link me to, the why of this thing is a baffling and mystical adventure.
Ain't life grand?
"Why?"
"Because life is filled with mysteries that are better left unsolved."
"Why?"
"Well, maybe our creator, who gave us minds of immense cognition wanted a few things to be unknowable."
"Why?"
"Because not being able to know everything is actually a huge fucking relief."
"Why?" 
"Because trying to know everything or acting like we know everything is an exhausting exercise in futility."
"Why?"
"Because that's not our job."
"Why?"
"Because…because…because…God made us this way."