Resolute
I didn't make any resolutions for the new year.
I know myself too well for them. I know that if I truly don't want to let something go, I won't. If I truly don't need to let something go, I can't.
It's had me reflecting on what resolutions are. How it's customary for gym memberships to sky-rocket in January, and gym attendance to plummet by February. Resolution is a noun. Resolutions are things.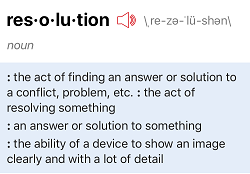 They are declarations of the will. That's never been my strong suit: will power. And for the outsider looking in at a drug addict and alcoholic, clean and sober for nine years, this is a conundrum. How can someone kick those habits without an iron will?
The insider—the addict, the alcoholic, the one in recovery—knows that I surrender my will power; I give up the fight. I admit that I am powerless.
---
My will in the matter is as useful as a swiss army knife to a brain surgeon.
---
The key to sobriety for me isn't not using or not drinking, it is my surrender to the fact that I am an addict and alcoholic, and to use or to drink is to die. And because to eat too much sugar, or chew some tobacco, or drink too much coffee does not spell immediate death, making resolutions to let them go just won't cut it for me. I know that.
At the suggestion of a colleague back in my using days, I made a resolution once to lay off cocaine for the calendar month of August. Temptation was everywhere. I chose new places to frequent and new people to be with. I did so well for the first four weeks that I rewarded myself on August 31st, a night out with some old friends.
I couldn't make it through the month because I had to celebrate making it through the month. That sums up the insanity of addiction. While I see that it makes no sense now, back then it made perfect and compelling sense.
No. Resolutions aren't my cup of chai. An anguished prayer in the dark of oblivion for a little relief from torture? That's where I shine.
Working a program of recovery has made me resolute.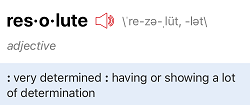 All of a sudden, I am a man of faith, who hasn't missed a day of prayer in over nine years. I am diligent; my employer informed me that I have an accumulated 30 days of paid leave because I've missed so few work days over the years. I am resolute about recovery and writing and work and family.
I can't explain how a resolute individual can be so poor at making resolutions.
I know it has something to do with the new habits I have developed. Muscle memory allows us to act without thinking, and it takes months and thousands of repetitions to create it. Praying, writing, working, even changing diapers every day have become easy because of habit.
Becoming resolute has opened up a new life for me. Ironically, it is a life that doesn't have the time and energy to form a bunch of resolutions I may or may not keep.