Only If
Petty resentments.
It seems redundant. Are any resentments not petty? It's like when someone says, "It's 6am in the morning." Of course 6am is in the morning.
Here's another petty little piece of ire I needlessly harbor. Spice Six is the Chipotle of Indian food. You choose your dish, from bowl to wrap to pizza or kebab. Then you choose your protein and toppings. Unlike Chipotle, the Spice Six soda dispenser is behind the register. I love re-filling my soda. Like a good addict, I'll have three refills with dinner and one refill to go. Only if Spice Six had free refills I've thought a dozen times.
This week, I decided to just ask them, "Could I have a refill?"
"No problem, sir. Ice?"
Now that's what I'm talking about. I took my refill to go and strutted out of Spice Six like I discovered a new planet. Later it dawned on me that what was more significant than my asking for a refill was the years I spent believing that refills weren't free because the dispenser was behind the counter. Why didn't I just ask earlier?
A simple question can have a profound answer.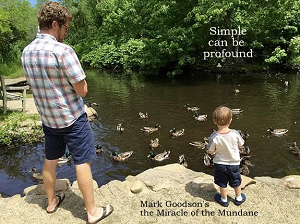 ---
I spent years with my writing—random thoughts, poems, reflections—taking up space on my harddrive and collecting dust on the shelf.
I went to bookstores and wondered how these authors got from harddrive to hardcover. I was ready to resign the ambition to publish when my wife bought me a "how to publish" book last Christmas that taught me about blogging. My mom and stepdad that same Christmas reserved this domain, Mark Goodson dot com. Eleven months into the self-publishing journey and I'm asking the same question I asked with a cup full of Soda leaving Spice Six: why didn't I do this before?
---
It seems the greatest obstacles in life are not obstacles at all. They are opportunities.
---
Ask and it is given. I know my mom, a raving Esther Hicks fan, will appreciate this post.
I don't have a hardcover book to announce. One day, I hope I will. And what's more, it doesn't matter to me anymore. I am walking the path. People are reading what I write. I am part of a broader writer's community. I'm doing the things that I thought were reserved for those authors I admired on my bookshelf. I would stare at those books and think, only if.
Only if I had a website…
A few clicks and my reflections, poetry, stories are broadcast worldwide. It's hard work, but it's easier than not doing it and wondering only if.
Beth Jannery, a writer friend (her website here) who I met on this journey asked me to guest lecture her George Mason communications class. I put on my best, my only, professorial outfit and talked to a college class about blogging for two hours. All because I stopped wondering only if and started doing it.
Thomas Friedman's new book Thank You for Being Late (available here) has a great introduction on the power of blogging. I used it to beef up my lecture. "Don't take it from me, take it from Thomas Friedman," I told the class. "If he says it, it must be true." Friedman wrote this book because of an interaction he had with his parking attendant at The New York Times. The parking attendant was a refugee from Ethiopia, and a blogger. Friedman was shocked to learn that the man who parked his car each morning was a rival columnist. His relationship with the parking attendant changed the way he saw the world.
This blog has changed the way I see the world. I am now connected to friends in recovery and writers I admire. And I can credit it all to the willingness to ask for my refill—the willingness to stop worrying about my only if and start doing.
If you took your biggest only if and did something about it. What would you do? Comment, and let me know.