Lives Unfiltered
This week, 10 people from 5 countries and in 5 different states reported their everyday news.
Here's your #LifeUnfiltered news roundup.
---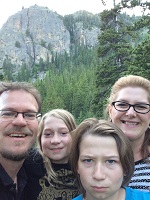 June 26, 8:56 p.m. St. Paul, MN (Twitter)
Daniel Mauer of Transformation-is-Real was first on the scene.
It's from a mountain drive we took ten miles from Nederland, Colorado. We thought the rock face on the opposite side was impressive. I invited the whole fam to take a "famsie" (love that) and everyone was game except for Josh, as you can see by his expression. Fun!" (Twitter DM)
There are many reasons to visit Dan's site—his books, his blog, Zach Nelson's poetry series. Most recently, he published Annie Dulhanty's story, a must read in my opinion.
---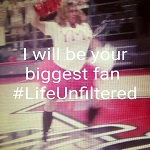 If you haven't heard of a "famsie" before, a family selfie, you can credit our next #LifeUnfiltered informant, Kip Shubert of Warriors on Purpose. He posted this on Facebook, June 27 at 8:45 p.m. from Tulsa, OK.
In typical "Team Shu" fashion, he then followed with a heart-felt anecdote:
Been thinking about Mark Goodson of Miracle of the Mundane's ‪#LifeUnfiltered. Today I was up at school for a meeting and was able to see many of my students from last year in the hallway as they were there for summer school. Running up for hugs, saying Hey Mr Zapato. Hey Mr Shu. It was unfiltered reciprocal love and admiration. They weren't bound to me anymore as students. They were just my tribe. Shot an energy through me that gave my purpose a boost. Thanks Mark for reminding us to appreciate the mundane, the unfiltered moments."
For those of you that don't know, Kip's a great teacher. Click and see! 

---
On June 29, 8:08 p.m., I received an email from British Columbia.

Birdie blogs. Click Birdie's blog to read her powerful post concerning her daughter's graduation.
Here's more from Birdie:
My daughter graduated from high school this week and brought home her cap and gown for pictures. We have a gorgeous yard so I sat her on the garden bench then berated myself for having the laundry hanging in the background. No matter, I will just edit it out! But then I was reminded of The Miracle of the Mundane. So here is my lovely daughter in her cap and gown with the laundry hanging in the background."
---
2 hours earlier and 4,000 miles away in Wexford, Ireland, Nicola O'Hanlon enjoyed some time with Ruby, her Jack Russell Terrier.
Nicola is the curator of the stunning website I Love Recovery Cafe. Go there to get lost for hours in the culture and creativity of recovery. She's a powerful poet and writer herself.
TAKE IT AWAY NICOLA: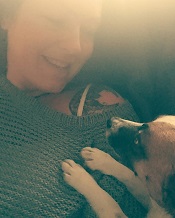 Awh thank you. Her name us Ruby. She's a Jack Russell. I rescued her from the pound about six months ago. She was badly abused and was so unwell she was at the animal hospital for over a month before we adopted her. She is my constant companion and we fell in love with each other immediately. When I picked her up in my arms for the first time at the pound she cuddled into me and hasn't left my side since.

In this picture we were just chilling on the sofa. She'll just look up at me when she wants my attention or wants to show me love. I'm a survivor of domestic abuse and so is she so it feels like we have this super strong bond and understanding……might sound insane but it's like we're helping each other heal."
---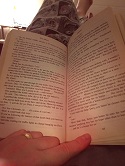 Live from Glasgow, Scotland at 6:23 p.m. came Ritchie's tweet. You may recognize him better as the "international man of sobriety." Ritchie provides hope, guidance, laughter and support daily. I am grateful he thought of the #LifeUnifltered to take this pic in the land of the Scots.
Feet up, book in hand."
What's more, that same day he celebrated 2 years sober. Click to follow this man!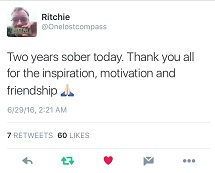 ---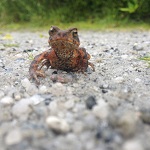 I asked Ginger if I could please broadcast her comment on the #LifeUnfiltered post because it captured what living unfiltered is about. On June 30, at 5:54 a.m. she complied via email. It was 10:54 a.m. in British Summer Time.
I do not watch the news because it is designed to keep us in fear not informed. I love the 'if it bleeds it leads', sums it all up really. Slightly off the movie theme but everyday I walk my dogs at about 6:30 in the beautiful Cornish countryside. This morning I stopped and took a picture of a frog/toad I had never seen before. It made my morning. Connecting with nature always grounds me and reminds me that it is the simplest things that bring me the most happiness."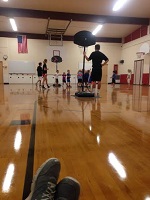 ---
Check Twitter and there's Jill at 12:22 p.m.
Her tweet read:
Clear-headed early morning, watching this scrimmage of 5 year olds." 
While I don't know where Jill tweeted from, I know where she is coming from. There is nothing like bringing a little bit of clarity back to your morning.
---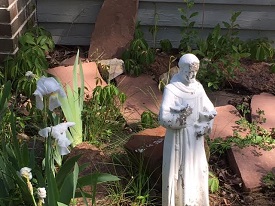 You know him as the host of Sloshed Cinema, and as the writer of Seanologues, now see him reporting on #LifeUnfiltered news for Denver, CO.
How long has this statue of St. Francis been in my grandparents yard? Years. Decades. Forever.

I'd see it when I'd cut down their alley on the way to the swimming pool. I'd see as I ride my bike on the way to our corner store. I see it now as a 43 year old man who didn't live in this neighborhood for nearly 30 years. After 15 years that ruined my life, shaped my life and saved my life in Los Angeles I'm back in Congress Park, the Denver neighborhood I grew up in the 70's and 80's. Living my life unfiltered. I've changed for the better. But a lot of this world hasn't and that's for the better too. Like St. Francis. Paint chipped, blizzard worn but still with animals at his feet. He still reminds me to understand instead of being understood, to bring light where there is darkness and to sow love where there is hatred.

How long do I need to hear that message? Years. Decades. Forever."
Wow, right? He is a brilliant writer. If you haven't checked out Sean Paul Mahoney's podcast or website yet, you should.
---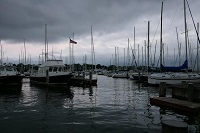 Damien D. shared his moment on Instagram on June 30. The skies overcast in Eastport, MD.
Follow Damien's blog: Walking in Sober Boots. His latest post about his rekindled interest and appreciation for art resonated with me.
More than simple happiness, joy is an exuberant feeling of pleasure."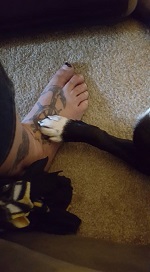 ---
This moment will make all your scrolling worth it. Cristina Ferri, aka the Sober Unicorn proves that our kinship with animals can make the mundane miraculous.
It was June 30 at 5:26 p.m. from Plainville, MA that she posted this on Facebook:
Buddy The Dog holding my paw, and reminding me we both need pedicures!"
When I asked her permission to use it, she replied
These are the moments where I don't normally show the world… where I just smile and thank him for being the best puppy in the world… but I saw your unfiltered post and saw the opportunity:)" 
---
The response was larger than I expected. I'm grateful for everyone who let life happen and then took the time to share it. What more proof do we need that there is joy in the simple life, and miracles in the mundane?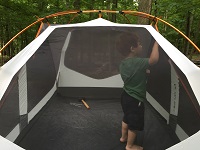 I took the #LifeUnfiltered challenge myself when I took my son camping for the first time. When we turned the lantern off in the tent that night, and all the stars appeared above us, I told him stories of rocket ships and star travel. I felt as free and unfiltered as ever.