#LifeUnfiltered
Media doesn't report the ordinary.
We depend on extremes, bombarded by horrific accounts of tragedy one minute, and entertained by doctored photographs the next. Who has the time to consider what is in between?
My wife has grown increasingly anxious concerning airline flights and public spaces. When we took Everett to his first movie on Thursday, she chose seats in the corner in case someone shoots up the place.
She told me this after the movie was over and we were walking down the street. I was carefully choosing words to soothe her worries, searching them out like hands feel for ripe fruit at the store. But nothing felt right.
I thumbed open my phone. A news feed opens automatically through some setting I never changed.

"Don't check the news," I told her.
We attended a 10 AM showing of Finding Dory in the United States. A gunman held a German movie theater hostage at 10:30. She was right. How dare I try and calm her down when her intuition felt the terror of a gunman 4,000 miles away. Only a mother.
"Isn't it awful."
I looked up to hear where the voice was coming from.
"I stopped checking the news 10 years ago."
A middle-aged woman, wrinkled ahead of schedule and wearing beige reading glasses spoke to us.
"I've been much more at ease since then. If you check the news, everything's a direct threat to him." She nodded in my son's direction. He was too immersed in the reenactment of Dory's escape from the back of a shipping truck to know he was the subject of conversation.
I chimed in. "That's why I prefer social media. You get to connect and follow people you want to follow. People reporting good news. News from their everyday lives. That's where the good stuff is."
"I like that," she responded. "I'm sure you have plenty to report with that little miracle there." She again nodded to my son. His arms were now fins paddling through the humid summer air.
It couldn't be coincidence that some stranger in front of Mattress Discounters described my purpose as a writer in a passing conversation. Could it?
I don't believe we're doomed.
I don't think human nature has changed. I am a Hobbesian, believing our evil proclivities are imbedded in our nature. But, we are surrounded by choice. We can choose to do the right thing. And, if you know where to look, we are surrounded by people who do the right thing. You're only more likely to find them in real life than on a news report.
---
The fact that bad things happen hasn't changed. What's changed is the accessibility of bad news.
---
Our phones are a vibrating transmission of doom, sitting in our pockets. I'm sure millions of people have viewed the German gunman story through dozens of news outlets via endless media portals.
It's no wonder then that we require enhanced entertainment, augmented special effects, filtered photos—things that overcompensate to make life appear worth the while.
The Associated Press isn't going to syndicate the story of a 3-year-old's first trip to the movies.
That's what I'm here to do.
I report the news I find fit to print.
So here it goes.
There isn't much more to tell. But maybe I can show you something.
He loved every minute of that movie. His eyes like two high beams fixed on a screen taller than our house, streaming countless pixels-per-second of Pixar magic.
The movie was wholesome, like the original. It created a great message about loving one another and devoting your lives to that love. Of course it was dressed up in dazzling visual filters to entertain. My attempts at filtering images are much more amateur. 
We dress things up, filter them, enhance them beyond real life. But nothing enhances the soul quite like real life. It's like a finely decorated Christmas Tree. The oohs and the ahs are directed toward the sparkles and ribbons and lights that adorn the limbs, but the substance of the spectacle is the tree.
The experience behind the doctored photograph is what really counts.
The miracle behind the magic is what is worth reporting.
It is magic to watch a movie studio anthropomorphize sea creatures in dazzling animation. It is a miracle to watch a 3-year-old believe that new and incredible things are possible.
I enjoyed watching him watch the movie more than he enjoyed watching the movie. And that is a miracle—to be so lost in love for another person that I forget myself.
Humanity has the capacity for unspeakable evil and magical special effects.
Must we be informed every time we exercise our capacity for cruelty? Must we dress up the mundane in order to call it beautiful?
Before we check our phones—before a crazed gunman wields a semi-automatic in Germany—before we are filtered to appear dazzling—before we are aware that our image will be captured—a father and his son sit in a movie theater.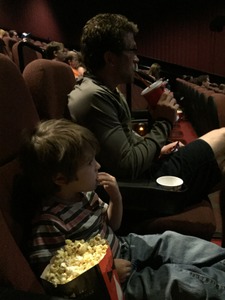 Let's take back the news. Find your miracle of the mundane. Post something this week with the hashtag #LifeUnfiltered and let's make real life great again.