Just Believe
Here I go again, writing about an occasion or holiday the day after it's over.
I admit it is anti-climactic to post about Easter in the blogosphere when the working world is back to business. In my defense, I rarely have much to write about without experiencing it first. This blog is about the experience of the everyday, not speculation.
I've never imagined God cares much for occasions, anyway. It's not like God's time is measurable on a calendar. Ask the victim if there is a good time to forgive, she won't say "I can schedule some forgiveness in next week, say Monday at 9:30?" Or, "I would repent this Tuesday at two, but I'm meeting with my accountant." Calendar celebrations are important to us, but not important to the Maker. I mean, this whole humanity thing is only a blip on life's radar, after all. It's hard to imagine the creator of the universe doing anything in the measurement that we call time.
My faith journey can be summarized with two simple words: just believe. The source of my more radical beliefs is rooted in simple evidence: my life today. It is nothing like the life I was living ten years ago. Something changed. What changed is faith. Namely, I have faith today that I didn't have before. And because of that, nothing is the same.
That's where I try to let go of the linearity of it all. That's the launching point where I just believe. If living life with faith can bring joys such as this in my life: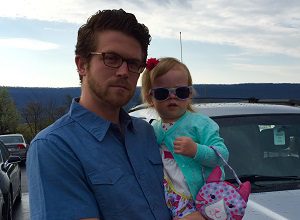 then I have no issue with imagining that faith can move mountains, walk on water, or resurrect.
Having radical beliefs in our existence is so much easier than putting trust in the world to answer the difficult questions. The world is such a constant disappointment.
The world drops bombs and rushes through lethal injections the way you rush to use up milk before it expires. Why even be disappointed anymore? It's the world. In my experience, the world is built to disappoint. It's that Orson Welles' Citizen Kane stuff.
"Rosebud!"
Even if you conquered the world, you'd die longing for the simple faith of a child.
All I need to do in order to believe that death can be conquered is hold my daughter. When she puts her head on my shoulder and I experience that rush of bursting happiness, I know that faith can do anything.
So why not let it?