Do the Right Thing
Doing the right thing is like exercise.
Your mind will never tell you it wants to do it, but you do it anyway. And, if you do it for long enough, you learn to love it. In recovery,
I've learned to love to do the right thing.
I've learned to love myself.
I've learned to love.
---
Denver's light-rail began in 1994, with a five mile track in downtown.
It has since expanded. Most recently, the W-Line in 2013 set total track distance to forty-seven miles, servicing Denver and the surrounding suburbs.

Customers are expected to purchase tickets for the train, although there is no manager to check that ticket. I took three rides before I grew curious and asked a Denver resident, "Does anyone ever check your ticket?"

"Oh, the police board every once and awhile and ask for it."

My old self would have taken the chance and skip the fair even if he had the money. He was the one, after all, who jumped the subway turnstiles in New York, ran away from cab fair, and smuggled dinner home from the company kitchen.

But that's not me anymore. I try to always do the next right thing.

When trying to do the next right thing, my mind can be my greatest enemy. This is why, on the morning of my departure from Denver, after not having my ticket checked for three days, and needing only to travel two stops and pay $1.25 to reach the bus that would take me to the airport, I walked to the Belleview station platform with an itch to steal the ride.
The old me is a ghost with a voice, a trembling specter bent on survival. I thought, It's only two stops—just get on the train, man. They haven't checked you yet, why would that change now?

My body approached the pay station.

My mind said, What are you doing? You fool!

My fingers found the $1.25 in spare change.

My mind said, What an idiot.

I boarded the car.
By the next stop, three police officers patrolled for tickets.

"Ticket?"

"Yes, sir."

My laughed to myself and smiled at the officer.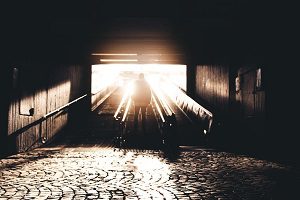 ---
The right thing is a muscle, atrophied by the long road of addiction.
If exercised, doing the right thing becomes instinct—muscle memory, whereby I act regardless of thought. To stay sober, I do the next right thing, often in spite of my mind's reservations. I show up to meetings when I don't want to; I tell the truth with a dozen lies in my head; I say no to hits of a joint when my mind conjures the delusion that I am sober enough to deserve a toke.
What good is gaining anything, be it the whole world or five quarters, if it could cost me my sobriety?