Close
I have a confession to make.
It's one of those confessions that if I heard it in my first year sober, I'd be all like "get a real problem, man." But, I'll share it anyway because I think it weighs more than it looks.
I'm a church-goer. No, that's not the confession.
It's a Baptist church, although I identify more as a believer than a Baptist. I identify more as a believer than a Christian for that matter.
Each Sunday, I take my two children to the back of the sanctuary so they can be in children's church. My son, as I've posted about, is a perpetual stage-five clinger. He sticks to us like a young marsupial. So, drop-off is never easy. What's more, my daughter, his younger sister, has recently experienced a stranger-danger instinct explosion.
For half a year, I've been dropping them off and waiting in the hallway by the pastor's office, where the coffee and cookies are. I have been waiting, you know, until the kids mellow out so I know they'll be OK. And for this half year, it has been a mere happy coincidence that I—a loving father—am forced to wait near a massive supply of caffeine and sugar, scrolling through twitter to see what my #recoveryposse is up to.
As my children became more and more comfortable with children's church, I've had less and less reason to sit there in the hallway and enjoy that smooth cup of Joe. But, I've stayed there nonetheless. In fact, last week, neither of the kids even cried or flailed a limb when I handed them over. Still, I go for my cup, and I sit, and I nibble a cookie, and I tweet.
I created this habit where I reenter church after the folks in the sanctuary "greet each other in the name of the Lord." After they get out of their seat, shake hands with others and, as our pastor says, "meet someone [they] haven't met before," comes the sermon. And I love that part. I need that message once a week because we live in an upside-down world. And if you live in an upside-down world for long enough, you'll begin to think that down is up. And that makes for a hell of a struggle to figure out the smallest of things, such as elevator buttons.
While I joke, it is the weekly sermon that informs me a higher power intends me to live apart from how the world would intend me to live. I don't know any other way to draw breath and be happy than apart from this upside-down world.
So, I get my sermon fix every Sunday. And if I miss the greeting part because I'm doing my fatherly duty of children's church drop off, then so be it, right?
---
I've come to the realization that one reason our world is upside down is because people are afraid to be close to one another, afraid to let others see how broken we are.
We are quick to lock up and forget about those who Christ called "the least of us." We've got an educational system where administrators tell teachers how to do their jobs; a government that thinks it knows what's best from a distance. We're losing trust with our neighbor, while gaining trust in online shopping. It seems that most of our ills stem from not wanting to get proximate, get close, to listen and tolerate the beautiful ways in which we are broken.
I know too well what it's like to keep people at a distance. I did it for the fourteen years of my drinking and using career. The Keys to Recovery newspaper generously printed my blog post on this phenomenon. I am very good at saying what I need to say in order to keep people at a distance. Keeping people at a distance is a problem for me. I've worked my ass off to stay sober for as long as I have, and I aim to stay sober. So, avoiding people in church—some of whom are new and eager to meet me—is a problem.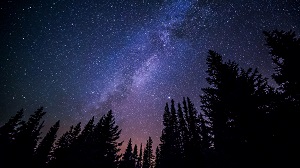 Everything is perfect from a distance.
Cue Bette Midler.
But I'm sorry, Bette, God is not watching us from a distance where all looks like peace and harmony, not the God that got me sober.
The God that got me sober filled the gaping imperfections in my life with grace. The God that got me sober closed the distance between me and the worst things I've done. The God that got me sober made me forgive myself first so that I could, more importantly, forgive others. The God that got me sober showed me the miracle of the mundane, the unspeakable bliss of just being alive. The God that got me sober tells me that I need to freely give away what's been given to me.
The God that got me sober is invasive, penetrating, near.
What I'm getting at is that the God that got me sober was never at a distance. In fact, The God that got me sober was so near, that knowing God became knowing myself.