Change
It was one of those weekends.
Those weekends with nothing to complain about except for an irritability, at once paralyzing and restless. When I read Paul Silva's post (here) about conquering frustration with a few breaths, I realized I couldn't remember the last time I took a purposeful breath—the last time I meditated, or said a prayer that wasn't rushed or by rote. And when my spiritual growth is stagnant, my old pal fear rears his ugly mug.
That irritability I feel when my only obligation is to take my son out into the D.C. area's first snowfall or rock my daughter to bed? That's fear baby. Self-centered fear.
---
It was always my fear of not having enough that made me take too much.
---
Today, it's my fear of not doing enough that makes me want to do too much. And that fear is a cog in the bigger wheel—the granddaddy of them all: the fear that I am not enough. The fear that I am altogether insufficient, that I occupy the wrong space at the wrong time. I succumbed to those fears this weekend.
I tried to fill that void of more instead of practice the happiness that exists outside of wanting.
It's no coincidence that I am in the middle of a transition; the course of my life is changing. At least, I hope it will. I've decided it will; I just haven't finished the work to make it happen yet. And it's in that difference—between ambition and reality—that fear latches on like a parasite.
It's that naive illusion that I can change the world without first changing myself.
Change is scary.
All real progress slogs through fear. This weekend I was reminded of this. And as you might expect from a writer who calls his blog the Miracle of the Mundane, it took a routine act to shake loose, however briefly, from the phantoms.
My son is usually the one to lead us in prayer before we eat. It's a jingle of a prayer he learned in preschool that thanks the Lord for "the sun and the rain and the apple seed." On Saturday night, however, he was not in the mood. Twenty minutes of tantruming and the only way we got him to sit down was to threaten to take away his video that night. He sat down, screaming. My daughter, also screaming, was trying to pry apart her booster-seat buckle like Hulk Hogan used to rip his spandex.
I prayed for us: "God, please help us put aside our frustrations to enjoy this meal and realize the love we share is the love you give us. A-men."
As much as the prayer fit my duo of screaming children, I was praying for myself.
Sobriety is the most important change I have made in life.
It's when my recovery becomes another coin in the change drawer that I miss the sheer miracle of it all.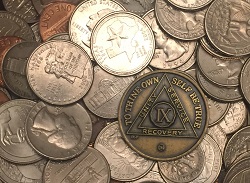 The change I made 9 years, 2 months, 3 weeks, and 4 days ago should be enough for me today.
It should be. Enough.