Bliss in Bulk
If you've seen The Exorcist, then you know what my 20-month-old daughter becomes around five o'clock if she hasn't had a nap.
Exaggerating? Partially.
No, I don't believe she has been possessed. Although, she does spin herself in circles while shaking her head and saying, "NO—dada—NO!"
Needless to say, a good many months have passed since she turned one and I wrote: "My daughter is the sculptor, chiseling away the unnecessary stone from my heart." Although I am still in awe of her. Although she is still my everything. Although I love her more than I can put to words—this exorcist shit got to go!
Normally, she naps twice a day. On trying occasions, she doesn't nap at all. Super Bowl Sunday was one such occasion when napping was out of the realm of possibility.
Like a great American sucker, I took her and my boy on a Costco run four hours before Super Bowl 51 kicked off. The line to wait for cooked chicken wings was twenty minutes. Maneuvering carts through the isle required a precision of darts, reverses, and u-turns. I may have said "excuse me" three dozen times, and grazed at least five carts as I threaded my way through the isles.
While navigating my cart like a Formula One driver, my baby girl—angel pie, honey child, sweetheart—hit me, again and again. If she wasn't hitting me, she was demanding out of her seat. If she was out of her seat, she demanded to be back in.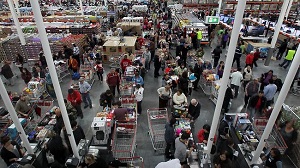 Let me set this record straight.
I love going to Costco. I love to find the empty aisles of long industrial shelving, and sprint with my children in their seats, putting my leg up on the under steel and cruising with my arms pressed up on the handle, cool forced air in my face.
I love going to Costco because I hate going to the grocery store. In a wonderful paradox of bulk, shopping once at that gluttonous warehouse saves us multiple trips to the smaller, meagerly-stocked grocer.
I've had great moments there—real miracle of the mundane moments. When the store is empty, and both kids are rested, they like to work together to push the cart.
For a fleeting moment, a belief came to mind that these kids may one day make my life easier rather than more difficult.
There was nothing super about Sunday.
It took three hours to get there, shop, and come back. And if my children's behavior wasn't enough, I absorbed the barrage of judgmental passing side-commentary, mainly from older women:
"Oh, she is quite the explorer."
"That girl's got attitude."
"She's one busy baby."
Some comments were placating, good-natured, Yoda-esque: "Brave man, you are."
Some were passively judgmental, like this one spoken as my daughter ran away from me: "Well, that girl's got some strong will-power."
Some were downright blunt: "That child's out of control."
No matter the intention of what was said, the comments shot to the core of my issues with an unyielding daughter. On a trip with such promise—buying snacks and wings and nachos for a Super Bowl viewing—it felt like going twelve rounds only to lose the fight in unanimous decision.
It was only when I got home and checked up on the #RecoveryPosse on twitter and read of sober Super Bowl viewing experiences that I realized the Costco-sized portion of bliss the trip actually held.
Shopping for the Super Bowl, I never even saw the multiple liquor and beer sales that were placed under my nose—placed exactly where people like me, the stressed-out dad, were sure to see them. The alcohol didn't even register in my brain as existing, let alone as an option for purchase. I survived the most stressful shopping experience I've ever had without noticing, let alone thinking about, the relief that alcohol could give me.
I found my relief that night: sober-eyed, sober-minded, watching and following the greatest comeback in Super Bowl history. My daughter was passed out from her exhaustion upstairs in her crib. I explained to my son how the game of football works, and shared laughs with my wife during commercial breaks.
Bliss is not as hard to come by as people think.