A sober alcoholic walks into a pizza place…
She ordered our 18'' Flippin Pizza. Sitting down, we reached for our phones with a reflexive action, like a knee-jerk at the doctor's office.
"So this is how we spend what little time we have together nowadays?" She said after a few seconds passed.
"We should put our phones away." I grabbed hers and sealed them with a zip from my jacket pocket and then stared idly about the room.
Flippin' Pizza posts slogans and memes about its walls, as most of these new fast casual chains do. The signs endorse fresh ingredients, filtered water, and hand-flipped dough.
My wife reached across the table and pressed her thumb below my lip, feeling for the plug of tobacco she just noticed.
"Really? Why right now?"
"I don't know, why not?"
"I'm glad you can publicly broadcast that you have a tobacco problem."
She must have read the blog I posted on Ash Wednesday about failing to give up Tobacco for Lent.
"So you're the one who visited my blog today!"
"Oh quiet." She didn't laugh. "It's just nice for you to admit you're addicted."
"I've said it before."
"No — you really haven't."
This flat denial must be some relic of my days of hard drug and alcohol consumption. I know I'm addicted to tobacco. I know it's a problem. I know it will kill me one day.
"That's it. Give me my phone," she says. "I need to send you something."
My mind races to images of toothless men. I brace myself to see pictures of men who've lost their bottom jaw and look like the mutilated zombies on The Walking Dead. I imagine myself as these men, and wonder if I can live with myself as a father who, missing half his face, can't cheer on his children at sporting events.
Given a few seconds, I can jump to extremes faster and further than anyone giving me a moral lesson.
"Check your email."
I do, and click this: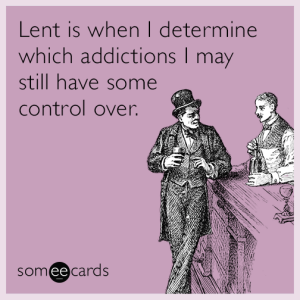 Phew—a much less visceral attack on my problem. But the thought resonates.
My tobacco use has spiraled out of control. At first, it was only while coaching. Warm days reminded me of so many great coaches I had and the wads in their cheeks and the thick brown juice on fresh green grass.
Then, it was only when I am doing anything football: watching film, practice planning, in a coaches' meeting.
Somewhere along the line, it came with me to work. I'd toss one in during a planning period. Then I'm keeping my beard to hide the bulge; I'm buying tins in bulk; I'm even tossing before I teach.
I can give myself a hundred excuses to continue while my wife waits for me to respond to a cautionary e-card she emailed to me out of concern.
"I'll stop. Soon."
My name is Mark and I'm an alcoholic and an addict. I am addicted to anything that gives me a notion of control over the way I feel. I haven't taken a drink or a drug today. But if my sobriety were left up to me, I would … someday … soon.